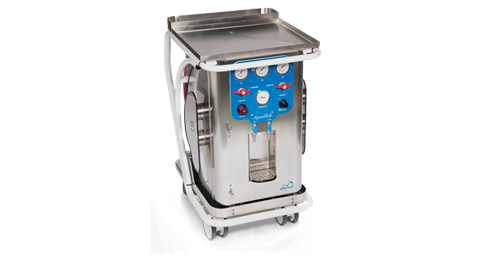 ADAPTAID, a firm that specializes in medical engineering, has been designing and manufacturing medical devices for over 20 years.
ADAPTAID's DNA has what it takes to assist healthcare professionals in dealing with various medical issues.The new CHUM (Centre Hospitalier de l'Université de Montréal) has chosen ADAPTAID products to develop the systems it uses to prefilter and deliver medical water to treatment stations in its dialysis sector. We are always listening to the needs of professionals in the field in order to offer the CHUM—and all our clients—products and services that provide complete satisfaction.
The CHUM meets the needs of patients with chronic or acute renal failure. Its dialysis department can accommodate more than 200 patients, who come several times a week to receive this treatment, which is used to filter their blood to eliminate waste products. Various types of dialysis treatments consist of circulating the blood outside the body in a purification device in order to induce exchanges between the patient's plasma and the liquid (dialysate) circulating in this device. Since water is the main component of dialysate and these procedures require large volumes of dialysate, it is essential to control its bacteriological and chemical quality in order to reduce toxic and infectious risks. In more technical terms, this process is called reverse osmosis water treatment to replace renal function.
ADAPTAID: MEDICAL ENGINEERING PRODUCTS
ADAPTAID specializes in the manufacture of components used to prefilter water from the water main and return it through a complex process known as "medical" purification. In hospitals, a piping system is used to deliver the purified water to a care unit where patients receive their dialysis treatment. Some patients receive training so that they can do their dialysis treatment at home. ADAPTAID works with its partners to make this type of treatment accessible through its portable water filtration units. Our equipment is used in combination with reverse osmosis units, which are monitored according to the treatment administered.
It isn't hard to understand that the manufacture of these devices must be flawless so that water purity is not compromised. Here, we are referring to the welds (which must be impeccable) as well as the fluidity of the water in our pipes (which must constantly circulate without ever becoming stagnant in order to prevent the growth of any bacteria).
At ADAPTAID, patient safety and the quality of our products is extremely important. This requires rigor, from design to manufacturing. Compliance with several standards applicable to the medical environment makes this rigor possible.
ADAPTAID products are sold throughout Canada and internationally.
For more information, please contact us at 1-450-585-7272 or info@adaptaide.com.