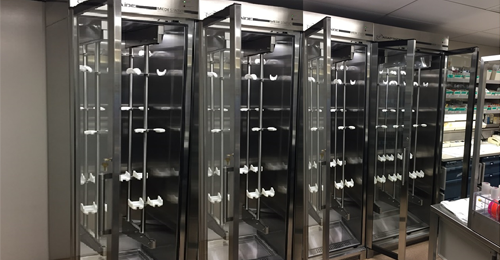 At ADAPTAID, we are very proud to have Montreal Heart Institute (MHI) as one of our premier clients.
An internationally renowned hospital center, MHI is home to the largest cardiology research center in Canada and ranks in the top tier on the international level. We have earned MHI's trust with our high-quality products and excellent service.
MHI has purchased several ADAPTAID products, but initially retained our services for ventilated cabinets to store medical probes, which were installed in the surgery unit. These cabinets are designed to store various probes. In this case, these are probes for completing transesophageal echocardiograms (TEE), which are imaging tests that use ultrasound (high- frequency sound waves) to produce images of the heart through a probe passed into the
esophagus. After use, these probes undergo high-level disinfection and are stored in cabinets that must provide a highly-sanitized environment !
To avoid any contamination, our MEDISTATIO cabinets are positive-pressure ventilated and equipped with HEPA filters, as recommended by the Institut National de Santé Public du Québec (INSPQ). In addition, our system of sliding rails makes it possible to attach a larger number of probes in a limited space while still preventing them from touching to reduce the risk of cross-contamination. At MHI's request, we also slightly modified our product to add additional rails, which allows the product to perform better and fit their needs more closely.
The MEDISTATIO series of cabinets can be used with any type of medical probe.
This is one of the ways ADAPTAID adds value: in addition to extremely rigorous manufacturing quality, we can adapt our products to specifically meet a client's particular needs. From the first consultation to product delivery, our skilled team supports you through every stage of your project. Contact us for more details.