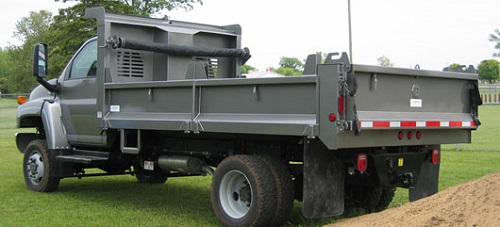 At Brandon, we believe that product innovation is the key to success. We do everything we can to have a positive impact on the lives of our customers. Here are a couple of products that are doing just that.
MD-100
The MD-100 dump body was specifically designed for the average daily user to round out our lineup of products. When several customers came to us looking for a non-traditional product for smaller dump trucks at a competitive price, we were up for the challenge. By manufacturing our own signature underframe, we can now provide customers with a high-quality product that is guaranteed to be affordable. Many of our customers choose this product for its unmatched quality and accessibility.
Flex-Parts
Flex-Parts is a modular, flexible and durable system for tipper trucks. For example, the Flex Bolt-On Coal Chute has a sturdy design and a reversible handle for easy access from the driver or passenger side of the vehicle. This product is custom-made so that it doesn't hang over the tailgate. We can also provide an instruction manual for quick and easy installation.
Another example is the Flex Bolt-On Rear Hinge. It's easy to install, can quickly be adjusted for different heights and is 20% stronger than a traditional rear hinge. On top of all that, its universal configuration can be adjusted to fit 30, 40 or 50-tons dump trucks.
Want to know if we have THE right product for you? Contact Brandon today!