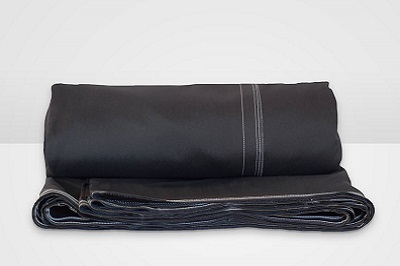 TechnoFlex tarps are transportation tarps made from reliable, high-quality materials. All our tarps are assembled in our workshop.
Quality guaranteed
That fact, along with our expertise, allows us to offer tarps that are the perfect size, extremely sturdy and durable, and less likely to be damaged when being retracted. We pay careful attention to the tarp's stitching and size, to ensure it's just right for you.
TechnoFlex – accessible, one-of-a-kind Canadian experts!
TechnoFlex specializes 100% in transportation tarps – as such, we're well aware of the challenges in the industry and its customers' needs.
We recognize that the quality of the design, fabric, stitching and assembly is a key factor in the production of durable, sturdy tarps. Thanks to this, all our products have a 1- to 3-year lifespan.
As tarp experts, we use machines specially designed to make them: sturdy, high-performance industrial machines that provide consistent quality.
In addition, our tarps can easily be purchased from anywhere in Canada, as we're the only ones in the industry that are part of the Traction distribution network.
Our promise to you
We're always looking out for new tarp manufacturing techniques and practices, to ensure we're offering the best product possible.
We promise to deliver high-quality products. You can trust the TechnoFlex quality. Contact us for an assessment of your needs.
.