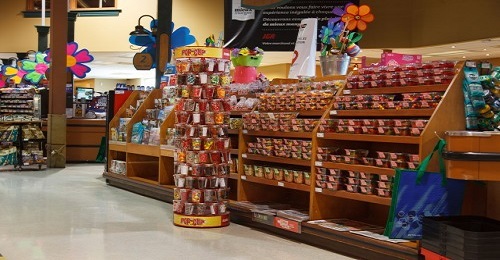 TRIOVA FOODS is a major wholesaler, packer and distributor of nuts, chocolate and confectionery products in Quebec. Its products can be found in different types of businesses, such as grocery stores, bulk stores, convenience stores and pharmacies.
Being aware of consumer purchasing habits in this type of market, TRIOVA FOODS has focused its marketing on very attractive and compact packaging and displays. The floor space occupied by its displays is therefore its main issue. In order for major chains to accept to place its products in their stores, its displays must be hyper-functional while being as compact as possible.
INNOVATIVE DESIGN
For ten years now, TRIOVA FOODS has trusted FILS MÉTALLIQUES BERTHIER (FMB) to design and manufacture its displays. Guy Laurendeau, President of TRIOVA FOODS, has extensive experience in marketing and explains that he has developed a great complicity with Steve Gravel, President of FMB: "From the beginning, Steve quickly understood my needs and I found his design innovative. He knew exactly what I was looking for.
For a customized product that meets specific needs, FMB offers its customers designers with years of experience. A final prototype can also be produced to ensure a perfect match between the product to be marketed and its display.
Always working in close collaboration with the customer, FMB's qualified team makes every effort to deliver an optimal product that meets the highest quality standards.
Guy Laurendeau explains that he has already worked for over eight months with FMB's design team to arrive at a prototype and, ultimately, the desired product. "When we launched the product, several companies copied us. We still managed to place close to 4,000 of these displays in Canada, including 2,500 in Quebec! In our market, that's huge! »
The display in question, a fully rotating tower, could hold 216 products and occupied only 18 inches of floor space. For stores that agreed to install it, it could easily bring in $500 every two weeks with no effort!
Mr. Laurendeau adds: "The design of the displays is essential to promote and showcase our products. Yes, our products are good, they are loved, but without an attractive display, we wouldn't have gotten where we are today.
FMB has built its reputation over the years through the versatility of its products, its creativity and its ability to adapt to customer needs. If you need displays, whether you wish to exhibit in the food, pharmaceutical, industrial, commercial or other fields, FILS MÉTALLIQUES BERTHIER is able to create the display that perfectly meets your needs and those of your customers. Contact us for more details.
TRIOVA FOODS: www.triova.ca