For several years now, producers of cardboard packaging have been facing many challenges.
Indeed, corrugated and solid board boxes are no longer just used to protect products. Today they have become a real marketing tool. Manufacturers of cardboard packaging must offer innovative, high-performance and affordable solutions.
Be equipped to excel
Like all cardboard packaging manufacturers, you want to offer the best experience to your customers so that they, in return, can offer the best experience to consumers. Usually, this means acquiring more efficient production tools. In a complex market, investing in competitive equipment is not a simple matter. How do you make sure you're equipped with the right machinery that will make you more productive ?

IMPACK is specialized in the analysis of working methods and in the design of equipment for carton packaging manufacturers. The Quebec company's primary mission is to improve the productivity of cardboard packaging manufacturers while integrating the specific reality faced by each company.
1. Custom-made boxes

Positioning oneself as a specialist in the manufacture of tailor-made cardboard packaging is a necessity today.
As cardboard packaging producers, you have to meet the demands of producing unique packaging and offer innovative solutions for your customers.
Tailor-made boxes mean being fast and efficient

Reinforcing your production tools and equipping them with efficient solutions is a solution to gain in performance and speed.

IMPACK has a complete range of packaging and feeding products for folding-gluing lines adapted to the complex needs of the market. The packers are installed directly at the exit of the folder-gluers. For example, the Ergosa packer has been developed for small to large format boxes made of solid and corrugated cardboard. Compatible with all folder-gluers in the industry, it combines the flexibility of a semi-automatic packer with the performance of an automatic packer.
2. Small series

Many cardboard box producers are increasingly offering their customers the option of placing orders without minimum quantities. 1 box ? 2,000 boxes ? 30,000 boxes ? For your customers, it is important today to have the possibility to order only the quantity of products they want.
Small series means having an even faster production capacity and being able to change production very quickly.

At IMPACK, there are solutions adapted to your folder-gluers to gain in speed and efficiency. The horizontal mode allows you to slide the boxes directly into the cases. With packing speeds that can exceed 100,000 cans per hour, this mode is convenient for small to large runs. Horizontal mode offers significant production increases without physical strain on employees. With a set-up time of only 5 minutes, the Ergosa packer offers more ergonomics and comfort to the operators.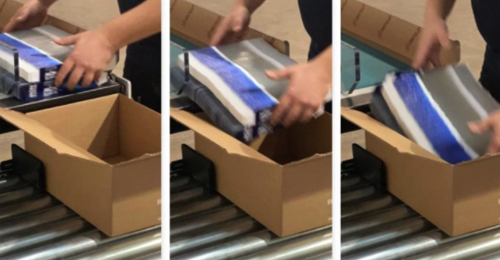 Staff movements on the Ergosa (Horizontal mode)
3. Last-minute orders

One of the most difficult challenges for cardboard packaging producers is managing last-minute orders. These orders that usually arrive at the end of the day and need to be managed first thing in the morning the next day are not always easy to handle. And even for these types of requests, your requirements are the same: to offer quality products that meet the customer's needs.
To manage this type of order efficiently, you need a high-performance production machine, to go faster, but also to reduce the number of staff on the production line to increase productivity.
High operating speeds and short set-up times are real requirements for cardboard packaging producers.

IMPACK has observed considerable benefits for several of its customers throughout the entire manufacturing process thanks to the Ergosa universal packer. In fact, by reducing the manpower on the packaging stations combined with the increased productivity offered by the Ergosa, it makes the manufacturing process more economical.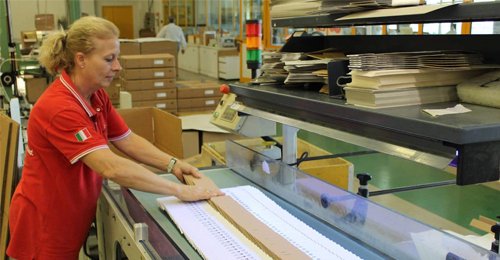 Packing boxes with the Ergosa C universal packer does not cause any stress to Box March employees.
4. Single orders

Some products are manufactured regularly and repeatedly. For others, they are small, one-off production runs, for example for Christmas and New Year's Eve, special events, specific commercial offers, requiring frequent production changes on your line. It is then difficult to justify an investment in high-performance equipment for these seasonal orders, which does not appear to be an advantageous or profitable solution.
Invest in the right place
Sometimes, simple adjustments to your folding-gluing line are all that is needed. Whether because of style or format, the orientation of the boxes in the case may vary. The IN Box Turners designed by Impack allow the boxes to be rotated by 90°. The Box Turner IN1, for example, will be installed directly on the compression belt of the folder-gluer. This is the simplest and most economical way to turn your boxes.
IN1 Box Turner
In order for you to make profitable decisions, IMPACK recommends strategies that are adapted to the reality of your business.
5. Low cost of production and productivity improvement

Low production costs and higher productivity can go hand in hand. To achieve this, it is important to optimise production. This can be achieved by reducing non-value added operations, maximizing machine utilization, reducing the number of staff working on a shift or moving to automation on the production line.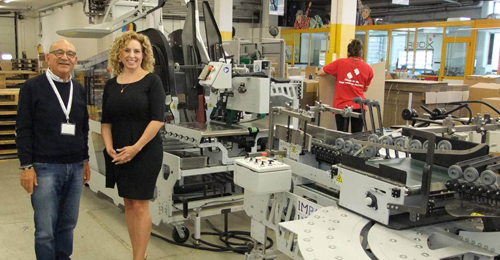 From left to right: Tonino Dominici, owner of Box Marche, Marie-Soleil Boutet, Sales Representative at IMPACK.
In 2008, Box Marche installed the Virtuo automatic packer combined with the IN3 web indexer on their folder-gluer.
The automation of production tools, partially or totally, offers many advantages. Generally, automation results in an increase in the productivity and profitability of the company. On an automated production line, you save time.
But should we opt for semi-automation or full automation ? Read our article on Optimizing my equipment: how to find your way around to learn more about the major differences between semi-automation and full automation.
For IMPACK, it is important to offer equipment that can be easily integrated on existing lines while taking up the least possible space, thus minimizing the cost of their integration in a given space. Evaluating customer needs is an essential aspect for the company. The investment must be fair and meet clearly identified needs.
With lower production costs and faster delivery times, you stand out from the competition.
Conclusion
Faced with the many increasingly innovative packaging solutions, it can be difficult for cardboard packaging producers to stand out from the competition and gain in performance. Staying abreast of changes and constantly seeking to improve is essential.

Impack has solutions for each of the identified challenges.
Evaluation of your needs. To meet your specific needs, Impack offers a performance analysis to give you an accurate picture of your productivity, the quality of your work methods and the performance of your equipment. Impack's experts know how to guide customers towards the solution best adapted to their needs and constraints.
IMPACK and innovation are one and the same. On the lookout for the latest technologies, the company is constantly seeking to develop equipment that stands out because it is innovative and above all because it meets your needs.
Challenge us to increase your productivity !