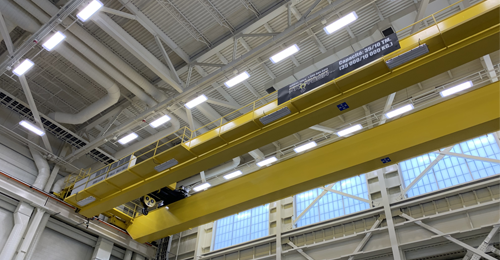 When you choose PONT ROULANT PROTECH, you can significantly increase the performance and reliability of your lifting equipment with our modernization services.
We offer our customers unlimited technical modernization options thanks to the combined experience of our engineering department and our teams in the field. You can benefit from significant savings, up to 50% full replacement value !
This option is appropriate if you already own high-capacity, long-range lifting equipment that is aging and no longer meets new industry standards. In most cases, it is possible to recover steel components and install new mechanical and electrical controls. We can even repaint the beams and give your equipment a completely new look !
Two examples of complex modernization
In a steel storage plant, we were entrusted with the task of modernizing a double girder overhead crane with a span of over 100 feet. Replacing the crane with a new one would have been extremely costly. We therefore retained the steel components and removed all the mechanical and electrical parts that were obsolete. Most notably, we removed the operator's cabin (which was suspended from the overhead crane). We replaced it with a radio control system. The equipment dated back to a time when bare wiring was still being installed. Unprotected copper wires are obviously associated with a high risk of electrocution! We remedied the situation by installing new sheathed power cables.
Existing beams aren't the only challenge: modernization also requires adapting to factory conditions. In some instances, it is impossible to remove overhead cranes from the place they were initially installed. This was true of a modernization project that we carried out in a paper mill. The overhead crane was installed during the construction of the mill and was located above the main paper machine that was to remain in operation! Our teams had to rely on a great deal of ingenuity in order to carry out this project !
Remember that at PONT ROULANT PROTECH, our engineers will team up with you to reduce your replacement costs and optimize your production output.