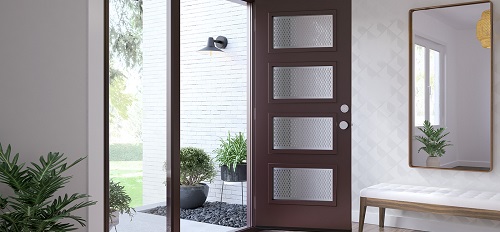 If you're shopping for a new front door for your home, Mélymax invites you discover its product line designed for a range of different needs and budgets.
As a manufacturer, Mélymax does not sell its products directly to consumers. However, Mélymax doors are available from some fifty retailers throughout Quebec. Stop in and demand Mélymax quality!
Since the company was founded, Mélymax made the decision to differentiate themselves from the competition through to the superior quality of its products, both in terms of precision assembly and the quality of the materials used. Here are the characteristics of the four types of doors made by Mélymax.
MÉLYMAX
The superior quality Mélymax steel doors are robust and energy efficient. This entry-level model is carefully assembled with hand-picked materials and custom-designed components. This increases both the door's durability and your comfort. In addition, the door is covered by an exclusive 2-year warranty on parts and labor.
Entirely manufactured in Quebec and built for our climate, the Mélymax door is an obvious choice. The injected polyurethane foam and triple weather stripping provide optimum insulation as well as strong weather resistance. The pine frame is assembled using screws instead of clips, the doorstep is thicker than a standard door, and the ball hinges contribute to an extremely strong structure.
MÉLYMAX PLUS
The Mélymax Plus provides all the advantages of the Mélymax door, with the addition of:
The use of 22-gauge steel, which is 30% thicker than the steel used for the standard Mélymax steel door
Commercial hinges with larger pins, which makes the hinges stronger and more durable
Mélymax-made superior quality paint (Glacier White Acrythane 2000) with a 25-year warranty
An exclusive 5-year warranty on parts and labor
You can't go wrong with a Mélymax Plus door. All of these little "extras" make it one of the best steel doors on the market!
MÉLYMAX HIGH PERFORMANCE
In partnership with Mélymax, Novatech has developed the High Performance door. Designed for Quebec's harsh climate and featuring a sleek and modern style, the Mélymax High Performance door is the standard-bearer for the next generation of steel doors. It surpasses every other product in the industry, setting a new standard for quality. Thicker, more robust, with better watertightness, this innovative doors offers superior insulation and resistance all around, providing you with unparalleled durability and comfort.
Mélymax is always seeking to innovate and is currently developing innovative new features to push this new concept even further! Thanks to its 30% thicker steel, added insulation, integral seal and double protection against air and water leakage, the Mélymax High Performance delivers the best energy efficiency and soundproofing on the market.
PATIO DOOR
Mélymax distributes Novatech patio doors. These doors, made from PVC, aluminum or a hybrid material, offer a modern style and unparalleled comfort. They boast high-quality workmanship, superior durability, and excellent energy efficiency.
With a minimalist, traditional, or modern design, these patio door styles will complement your home beautifully . Several features can be customized, including the color, type of glass, and addition of integrated blinds.
Visit the Novatech website to learn more about this line.
For more information about each product, visit the Mélymax website. You'll learn more about how Mélymax constantly innovates by investing in research and development to develop new manufacturing techniques that allow them to design ever more efficient doors for the local climate.
Click on the Find a partner tab to find the retailer nearest you!