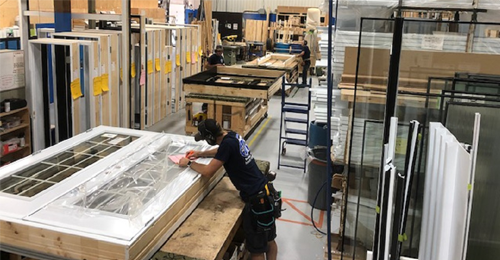 Two production lines start running from the very start: one for the framing and the other for the door.
Framing

Just like for the door, the first step for the framing is to ​do machining work with the CNC machine​. At this step, we drill the holes for the doors, locks, windows, hinges and other options requested by the customer.


Next comes the ​trim​. The inside of the frame is covered with PVC and a retainer molding is added to the outside in PVC or aluminum, as requested. This is also the step where the weather strip, hinges and electric latches are added. The head and threshold are also added now and then we move on to the extending the jamb (thickening) based on the customer's order. Manufactured in Quebec, the threshold is made of gray, extruded and anodized aluminum, reinforced with wood. It also features a PVC thermal barrier.


The final step for the framing consists of ​assembling​ the four sides and covering the exterior with PVC or aluminum.
Door

Our steel doors are 24 or 22 gauge with injected polyurethane foam. This provides an R16 insulation value. We also install an 18-inch wooden block in the handle area and a coex PVC cap on the door leaf. On the base model, it is white. Several other color options are available.


For the ​painting​ step, Melymax has a paint booth and an oven with a thermoreactor that cures the paint from the steel to the exterior. This equipment significantly reduces drying time and enables us to provide one of the fastest delivery times in the industry.
The final step for the door is adding the​ glass panes and options​. Once the glass panes are in place, we install the handles, locks, hinges and doorbell according to the options requested by the customer.
Finally, the two production lines come together when it's time to do the final framing and door assembly.
The normal production time for a door is 5 to 10 days and requires the work of eight people. However, in case of emergencies (breakage, theft), Melymax is capable of providing a replacement in 24 to 48 hours !
Melymax manufactures 7,500 doors per year and our mission is simple: ​Build a door as a family for your peace of mind.