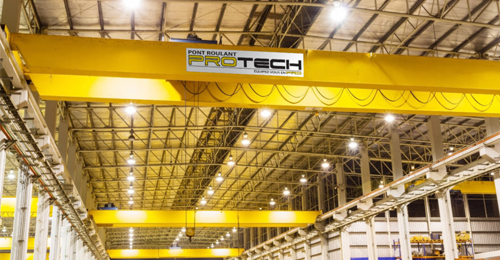 PONT ROULANT PROTECH has been operating since 1990.
They offer their clients the right expertise and facilities for designing and manufacturing lifting equipment for up to 250 tons with superior spans that can exceed 125 feet.
The company has continued to grow in their field of expertise, relying on strategic approaches focusing on their clients' needs and expectations. In this article, Maxime Pilon, Sales Representative, and Katrie Beauvais, General Manager at PROTECH, shed some light on the important factors to consider before purchasing lifting equipment.
1. PINPOINT YOUR NEEDS

Freestanding or semi-freestanding? Indoor or outdoor use? Lifting equipment comes in a variety of models : overhead cranes, monorails, jib cranes, hoists, lifting beams and gantry cranes are types of equipment that can satisfy different needs. Choose a device based on the loads being moved (weight, speed, vertical and horizontal distances) and the work environment.
For this first step, please contact your sales consultant, who will help you narrow down exactly what piece of equipment you require. If standard products don't suit your needs, PONT ROULANT PROTECH has the ability to manufacture custom structures, so you'll be completely satisfied. Thanks to their submerged arc welding technique, they're one of the few suppliers capable of building box girders for outfitting overhead cranes with spans that can exceed 125 feet.
2. PRODUCT ORIGIN

Though it may be more expensive, always choose equipment that is designed, manufactured, installed and distributed by North American companies able to supply spare parts quickly and easily. Their proven reliability and durability make them a smart choice !
3. HIGH-QUALITY COMPONENTS

It's important to make sure that all the components of your lifting equipment, like an overhead crane, are of high-quality, that they come from highly-regarded companies and, lastly, that they meet the industry's CSA standards.
4. EXPERTISE

Choosing a company with the expertise needed to manufacture your future equipment is crucial. For example, the PONT ROULANT PROTECH team includes dynamic and highly-motivated technicians, welders, fitters and electrical mechanics. Each of them has at least 10,000 hours of work under their belts as well as, on average, 15 years of experience in their field. For all of them, ongoing professional development training is a matter of course, so they can satisfy quality and safety standards and thereby conform to their clients' expectations. See the range of services.
PONT ROULANT PROTECH also offers 24/7 service in order to respond to emergencies or to complete maintenance work during your scheduled production shutdowns.
5. GUARANTEE

Finally, seek out the maximum warranty, covering parts and labor for a two-year period.
"At PONT ROULANT PROTECH, our commitment to quality reduces the risk of error during execution and ensures you receive safe, efficient service. All of our services are provided in-house, with no subcontracting. We're very proud to say our quality standards exceed those of the industry !" – Katrie Beauvais, General Manager