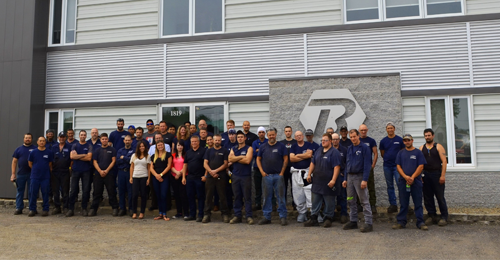 When brothers Sylvain and Benoît Lemaire acquired BRANDON MANUFACTURING in November 2013, the dump body manufacturer employed twenty people and was manufacturing around 450 dump bodies a year. Today, that number has grown to 105 full-time employees, and the company's revenue and product production has increased fivefold !
LISTENING TO CLIENTS
The accelerated growth is due primarily to three major restructuring efforts established by the new management team, including the addition of veteran salesman Richard Allard in April 2014 as their business partner. Then, Sylvain Lemaire, with his past experience in selling and distributing steel in North America, Richard with his knowledge of the dump body industry, and Benoit with his manufacturing experience set out to meet with each of Brandon's clients with a message: "As the new owners of BRANDON MANUFACTURING, our goals are; to raise the company culture to a higher level of customer service for our distributors and their clients, increase product quality, and introduce new technologies in our manufacturing process to better serve all of our clients."
A NEW AND IMPROVED PRODUCT LINE
These meetings inspired the company to review and streamline its product line as well as improving its overall quality in order to reach the industry's highest level, while at the same time giving its clients the freedom to personalize certain products that aligned with their specific markets and needs. "We also collaborated with our supplier partners to improve the quality of not only our dump bodies, but also our parts and accessories," explains Benoît Lemaire. The company also started manufacturing dump bodies in stainless steel, a highly sought-after material due to its corrosion resistance, allowing Brandon to enter the municipal dump body market.
PERFORMANCE-FOCUSED MANAGEMENT
In addition to these new initiatives, as a third component, the management team established improvements and adjustments in all aspects of the company, including :

In human resources, by hiring international employees to address a shortage of qualified employees in the plant, and expanding the internal administrative staff to better serve its clients and Brandon's growth ;

In the company's overall resource management, with an integrated management module (Enterprise Resource Planning, ERP), resulting in better planning, reduced production costs, and even increased productivity ;

In Sales & Marketing, with the creation of many new tools to better serve their clients.
One example is the Brandon Dealer Online Quoting & Ordering System, which helped to reflect the company's new direction and the creation of Brandon's new market approach: "Where quality meets customization".
This slogan was a promise of quality, innovation, and competitive prices in the dump body market.