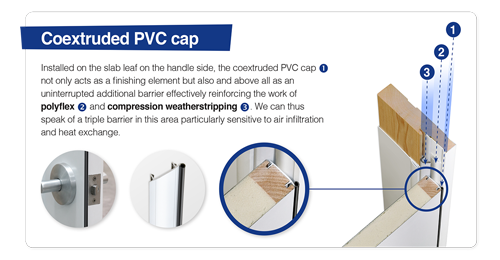 The front door is often the first architectural feature that we see on a house. It serves multiple purposes: thermal, acoustic and aesthetic.
More specifically, with the help of our experts Stéphane Asselin and Maxime Bergeron, who have been manufacturing steel doors at Melymax for 15 years, we'll discuss 7 things to check before buying a steel door in this article.
TIPS ON BUYING STEEL DOOR
1. QUALITY OF THE COMPONENTS

Most consumers prefer steel exterior doors. They are solid, secure and can last about 25 years if well-maintained.
They generally have wooden frames, the thickness of which may vary depending on the manufacturer's quality standards. They are made of galvanized steel sheets, with polyurethane foam spray injected between them. This process ensures a good level of insulation, as high as R16. It is important to note that the energy efficiency will be lower for doors with large window areas. You should know that steel door thickness is indicated with a number (22, 24, 26). The higher the number, the thinner the sheet and the more fragile the door. Our experts recommend a minimum of 24, or better yet, 22-gauge.
Then, in the factory, the door may receive an optional coating of heavy duty three-component acrylic polyurethane paint. This product gives the door a warranty of at least 10 years. Lastly, a double compression weatherstrip is installed to fit snugly along the metal of the door when it is closed. As a standard measure on all Melymax door lines, a third weatherstrip is fitted along the door leaf on the handle side.
Remember that several experts say that insulated steel doors offer the best quality-to-price ratio on the market.
2. QUALITY OF ASSEMBLY

Make sure to choose a door that was assembled using a manufacturing system that, at a minimum, complies with the new Canadian Energy Star performance standards and the National Building Code. By investing a little more, you can choose stronger, more durable doors than the standard products on the market.
3. QUALITY OF PAINT

Whatever colour you choose, make sure that the finish paint on your door complies with CSA standards, is flexible and uniform and carries a good warranty. To keep a beautiful shine on the door over years of use, companies use paints that reflect a lot of sunlight. Learn about how the paint dries; the most state-of-the-art method is a paint booth fitted with a thermoreactor. This tool helps keep the paint finish uniform and speeds up the drying process.
4. MANUFACTURER'S WARRANTY

Most manufacturers offer a one-year warranty for parts and labour. Melymax confidently provides you with a two-year warranty for parts and labour. See all the details of the Melymax warranty.
5. AFTER-SALES SERVICE

Melymax is committed to offering you the very best in steel doors. Nothing less! Our reputation for excellence comes from the consistently high quality of our products and manufacturing. Our customer service always exceeds our customers' and distributors' expectations. As our President, Stéphane Asselin, says: "Our top-of-the-line steel doors meet our strict manufacturing standards. They are carefully inspected and packaged for seamless transportation."
6. PRODUCTION TIME

For a standard steel door, expect delivery within two to three weeks. Melymax can, however, produce a door in only a few hours in emergency situations.
7. INSTALLATION

Installation is just as important as design—an excellent but poorly installed product can become a bad product. That's why it is highly recommended to call in professionals to install the door correctly and effectively, enabling your product to reach its full potential. It is also worth noting that professionals offer a warranty on their installation.
For more information, visit www.melymax.com. You'll find plenty of information there to guide you in your choice of steel doors, including the distributor nearest you.