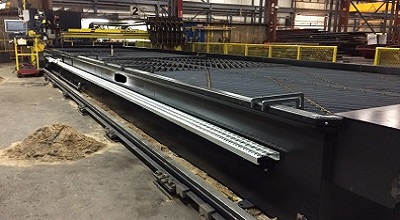 UDACO INDUSTRIES UNDERTAKES WELDING AND MACHINING PROJECTS FOR A VARIETY OF INDUSTRIAL SECTORS.
For the past twenty years, we have also been manufacturing various pieces of equipment to meet the demands of our customers. The products include automated plasma cutting tables, equipped with a variable-level water compression system. Our tables are entirely custom made in Quebec according to the dimensions and specifications provided by the customer.
CHOOSING PLASMA CUTTING
Plasma cutting is one of the most widely used cutting techniques in metallurgy and machining. With its remarkable finish, speed of execution and low cost, plasma metal cutting is an excellent alternative to laser cutting at lower cost. It allows cutting of different types of materials of varying thickness.
Our tables allow parts of all metals to be cut, in thicknesses ranging from 6 to 10 inches, depending on the material. It can be used for cutting with the conventional plasma as well as with oxyfuel. The dimensions are variable. The largest that we have produced was 17 feet wide and 100 feet long. The 5 ft. X 10 ft. format is the most in demand.
Each table that we make is unique. It is therefore not continuous production but a few requests per year. Our customers are often referred to us by companies that service the cutting tables and find our product well made, reliable and easy to maintain. It leads us to say that whatever your field of activity, UDACO is the benchmark in terms of fabrication of custom steel products.