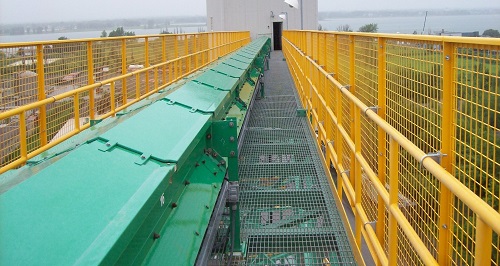 In Quebec businesses, workplace safety is often a headache for managers since it is always a matter of solutions that are adapted and made-to-measure.
In this situation, it is wise to be supported by a company such as UDACO, a benchmark in fabrication of custom steel products. "For our customers, it is important to be an ally in order to find innovative solutions adapted to their needs," says Caroline Baril, General Manager.
Even during the course of the project, the flexibility and expertise of the UDACO Industries Ltd. team assure you of a constant search for excellence in the execution of the work.
Among the services offered by UDACO Industries Ltd., it contributes to making workplaces safe by custom fabrication of all the steel equipment necessary for protection of factory operators.
CUSTOM PROJECTS
Catwalks
Ramps
Railings
Stairways
Ladder cages
Safety fencing
Ladders
UDACO's mission is to collaborate in the success of its customers by creating high quality steel work in a safe, collaborative and respectful work environment.