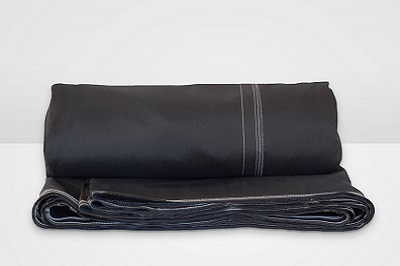 TechnoFlex's turnkey solution offers you reliable replacement tarps that perfectly fit your trailer.
What sets us apart
As an expert in replacement tarps for trailers in Canada, we're one of the few companies in Quebec to offer a one-stop shop for having your trailer tarp manufactured and installed. There's no longer any need to install it yourself or make an extra trip from the original manufacturer to ensure your trailer is properly covered.
TechnoFlex first manufactures your tarp and then TechnoDiesel installs it. A quick and simple solution for any trailer.
Benefits
Beyond the time and money you'll save, you also get our quality guarantee. Our tarps are tough, durable, waterproof and made from high-grade mesh.
We also offer flexible scheduling, so we can adapt to your needs. In addition to the peace of mind you'll enjoy from knowing you're getting the best tarp on the market, you can count on TechnoFlex's excellence during the installation of your tarp thanks to our qualified staff.
You're also sure to be pleased with the value for money.
Contact TechnoFlex now to book your tarp installation!