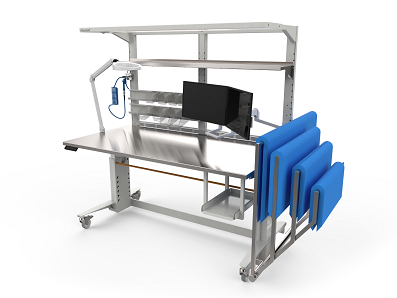 The medical furniture market grew to $6 billion (USD) in 2018. According to a new research report from Global Market Insights, Inc., the market will expand to over $8.5 billion by 2025.
CLEAR FACTORS DRIVING GROWTH
Over the next several years, the ongoing deployment of health-care infrastructure in developed and developing countries will stimulate the growth of the medical furniture market. Governments in countries with emerging economies are improving hospital infrastructures, and patients have a preference for hospitals with high-quality infrastructure, including medical furniture.
In developed economies, communities in major cities have access to hospitals that are closer to the forefront of new technologies, and that are often equipped with the best medical furniture available.
In addition, the increased prevalence of chronic diseases like cancer and diabetes is likely to trigger growth in the global market over the period analyzed in the report (2018 – 2025). Lifestyle changes have increased the risk of contracting illnesses that require surgical interventions and critical aftercare. This situation is beneficial for growth in this sector because it will ultimately lead to an explosion in demand for medical equipment of all kinds. Major actors in the sector seeking to expand their market share have a number of options in developing economies, which have a huge number of patients and high hospital admission rates.
A CANADIAN ACTOR WITH A UNIQUE PROFILE
ADAPTAID is a Canadian engineering company specializing in technical solutions for hospital settings. Since 1998, ADAPTAID has been designing and manufacturing top-quality medical furniture for a number of medical services, including endoscopy, surgery, dialysis and reprocessing of medical equipment.
Thanks to the ADAPTAID team's know-how, the quality of its products, and its close relationship with its customers, ADAPTAID is known as a supplier that can deliver custom solutions for health-care professionals' needs.
Meeting the highest standards for innovative medical equipment, ADAPTAID offers a broad range of products that includes endoscope drying and storage cabinets, transport trolleys and adjustable work tables, to name just a few.
A PROMISING SECTOR
According to the research report from Global Market Insights, Inc., the table segment currently represents a significant portion of revenue and is expected to see worldwide growth of 5.8% between 2020 and 2025. This trend is confirmed by Sylvie Charette, president of ADAPTAID, which continues to see increasing demand for its adjustable table/workstation: "One of the reasons this equipment has been so successful is that we designed this workstation to be comfortable for staff to use, which in turn improves their productivity." For example, the station features a motorized adjustment system that lets each staff member adjust it to their height. A system of presets allows staff to save up to four different custom configurations. The station is also equipped with all the IT equipment and accessories needed for reprocessing and assembly of medical devices.
THE NORTH AMERICAN MARKET
The North American medical furniture market represented 26% of earnings in 2018. A considerable portion of this revenue can be attributed to a well-developed health-care infrastructure. Hospitals covered by the public health-care system have the privilege of having access to government funding. Medical furniture is costly, so this coverage is beneficial to growth in this sector. In addition, favorable demographic trends like the growth of the geriatric population, who are more likely to suffer from chronic diseases, are stimulating regional market growth.
RECOGNIZED EXPERTISE
At ADAPTAID, patient safety and product quality are the most important factors in every action we take, and in every one of our products. To achieve this, we rely on a skilled team and a rigorous process from design to manufacture.
ADAPTAID products are sold throughout Canada and internationally. For more information, please contact us at (450) 585-7272 or info@adaptaide.com.
Editor's note: Content freely adapted from an article by Karl D. Forth in Woodworking Network Magazine.