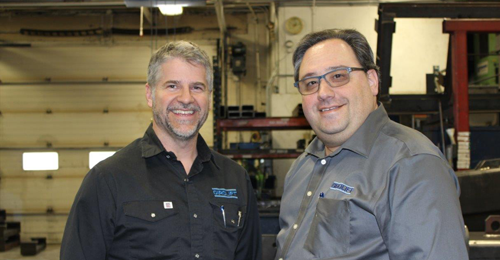 Behind every piece of custom equipment that is specially designed for its clients lies the expertise of Canada Hydraulic Equipment's employees and engineering and manufacturing departments.
Normand Mitchell
Normand Mitchell, design engineer, has set himself the challenge of imagining and designing perfect, safe equipment. Normand joined Canada Hydraulic Equipment in 2003 and has since been putting his skills and experience to work to help his customers achieve their goals with equipment that has been specially manufactured for them.

With a bachelor's in Automated Manufacturing Engineering from the École de Technologie Supérieure (ÉTS), Normand helps the company carry out calculations and preliminary designs. While still a student, Normand took part in the "Walking Machine" competition for autonomous walking robots. His team presented a six-legged robot, powered by hydraulic cylinders... It just goes to show that he has long been passionate about hydraulics!
At Canada Hydraulic Equipment, Normand designs the 3D models that help customers visualize their projects. Then, once the designs are approved, he draws the components in 3D and analyzes finished parts to ensure that they are safe and that they meet all the relevant standards. He then prepares the production drawings and sends them to the production team.

Stéphane Laforest
Stéphane Laforest acts as plant manager and head of production. He leads the meticulous team that give their all to manufacture the most precise, robust and efficient lift equipment. With 22 years of experience and trained in welding and assembly and CWB supervision, Stéphane loves a job well done! Alongside his team, he guarantees that all the Girolift™ lift equipment that leaves their workshop is perfect. A man of action and decision, Stéphane spends his spare time on motocross tracks and mountain biking.

Normand Mitchell and Stéphane Laforest's teams have a long list of satisfied customers to their name. Thanks to their high quality, Girolift™ equipment allows customers to save time in their lifting tasks and save on maintenance costs.
Designed to lift heavy and light vehicles, and for the industrial, mining and aeronautics sectors to name just a few, Canada Hydraulic Equipment's renowned products are 100% hydraulic, with no cables or pulleys.


PHOTO :
From left to right : Stéphane Laforest and Normand Mitchell