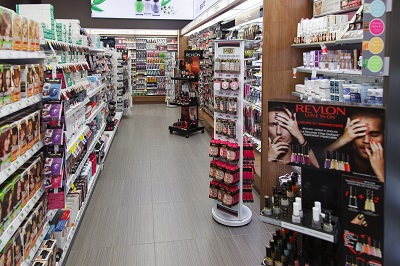 For a manufacturer of wire displays, such as Fils Métalliques Berthier (FMB), knowledge of its market is essential. Especially because of the speed at which the retail market is evolving and changing. This is why Steve Gravel, President of FMB, likes to define his team as "specialists in the field of point-of-sale communication".
Of course, an in-depth knowledge of the market helps them to clearly distinguish their business target, but for Fils Métalliques Berthier (FMB) it also allows them to better serve their customers and even be at the forefront of their needs. This is exactly what Sylvain Charest, President of Les Importations Cavan Inc., a Quebec company specializing in the import, sale and marketing of cosmetic and hair accessories, confirms.
For more than 10 years, Sylvain Charest's company has trusted Steve Gravel and the FMB team for the design and manufacturing of its displays. "Our products are distributed in pharmacies and grocery stores across Canada. Our displays are attached after the metal ones already installed in the various stores. So, there's nothing standard. My supplier has to be familiar with all the display templates that exist in these stores and be extremely precise in its fabrication!" explains Mr. Charest.
EXCEEDING CUSTOMER EXPECTATIONS
The right supplier must therefore be a partner in the search for solutions. It must have broad market expertise and be innovative. Mr. Charest is well aware that developing a new display can take time. Sometimes up to a year or more. He recounts the following anecdote while he and Steve Gravel were working on a prototype: "After months of work, Steve tells me that he has found the solution for my display, but that he won't be able to sell it to me! What do you mean? It's not safe," says Steve Gravel. Because it will hang low enough, someone could hang it on a stroller and a child could get hurt! "With this answer, Sylvain Charest realized the "finesse" of Steve Gravel, who had just shown him the extent of his expertise and that he left nothing to chance.
Since Mr. Charest's displays are often installed by the employees of the stores where they are distributed, FMB has already had small guides produced to ensure that the installation of its customer's displays would be done correctly. All of this, without the customer even having requested it! FMB has also been very innovative with the invention of a universal hook that allows for easy installation in almost any store in Canada!
ON-TIME DELIVERY
Mr. Charest confirms: "In ten years, Steve has never changed a delivery date! I don't know how he does it, but he always manages to meet his commitments! »
Always working closely with customers, the FMB team has developed the ability to understand and adapt to their customers' realities. Mr. Charest gives the example of a new display that is being launched for new products. A month later, the products are announced in a flyer. It will then take two weeks to deliver and install all the displays in store. In this particular case, if the product is not in store on the date announced in the flyer, the customer will lose, at the very least, $8,000 in advertising costs invested unnecessarily!
HIGH-END MANUFACTURING
A national leader in the manufacture of wire displays, FMB has forged its reputation over the years thanks to the versatility of its products, its creativity and its ability to adapt to the needs of its customers. With each order, its dedicated and qualified team does everything possible to deliver an optimal product that meets the highest quality standards. Contact FMB which offers innovative solutions that respond precisely to the realities of your field of activity.