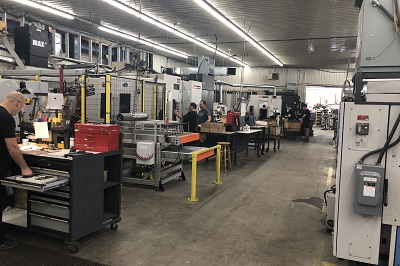 INNOVATION PLAYS AN IMPORTANT ROLE AT THE APF VILLENEUVE MACHINE SHOP. RATHER THAN BEING RESISTANT TO CHANGE, WE'RE AHEAD OF THE CURVE !
With the aim of continuously improving our industrial metal manufacturing techniques, we're never hesitant to implement new technologies.
At APF Villeneuve, innovation is in our DNA and is based on the following five pillars :
1. VISION
We push the limits of machining in order to remain a leader in the production of machined parts, whether the latter are high-precision or high-volume.
2. EQUIPMENT
Our industry 4.0 plant has a vast inventory of sophisticated equipment to provide you with machined parts that meet your expectations just in time.
3. ROBOTIZATION
Our automated and connected machine tools, as well as our collaborative robots, enable us to optimize our production and promote a safe environment.
4. RESEARCH AND DEVELOPMENT
We're always on the lookout for new technologies and best industry practices so that we can continue to engage in consistent and accelerated production.
5. OUR EMPLOYEES
Thanks to our qualified employees, our multi-axis automated machines and our collaborative robots, we can meet all your machining needs, whether they are high precision or high volume.
Contact APF Villeneuve for all your needs for high precision or high volume machined parts.