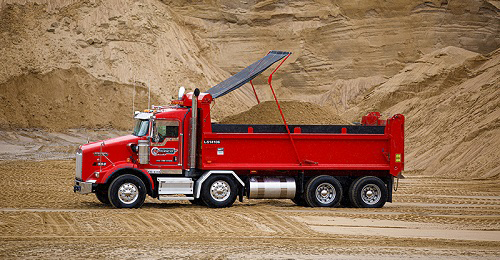 TechnoFlex​, a division of Techno Diesel, has developed a unique line of products and a singular approach to become THE specialist in replacement tarp manufacturing for heavy-duty trucks.
TechnoFlex was founded in Spring 2014 to meet a growing need among truck drivers for quick access to quality covers.
We manufacture waterproof vinyl, mesh and Bitumex© tarps designed to meet the needs of the trucking industry. These products can be divided into two categories :

Cover products for trucks
These tarps are designed for transporting bulk materials like gravel or asphalt.


Waterproof tarps for trailers
These extremely resistant tarps are designed for materials that must be covered during transport, such as metal and wood parts, construction materials, etc.
Along with these products, the company offers a repair service to extend the life of certain tarps. TechnoFlex doesn't manufacture tarp systems, so truck drivers can keep their existing system and simply replace their tarp with a TechnoFlex product.
"Our quality standards are very high," says Vincent Brault, business development director. "We conduct two quality controls during the manufacturing process and no subcontractors are involved in making our tarps, which are 100% made in Canada!"
TechnoFlex's vision for the future is clear: become the largest manufacturer of cover tarps in the transportation industry, standing out for our product quality and innovation, as well as for our processes.
The TechnoFlex team knows your needs and challenges and has in-depth knowledge of the transportation and trucking industries. ​
Take advantage of our expert advice!