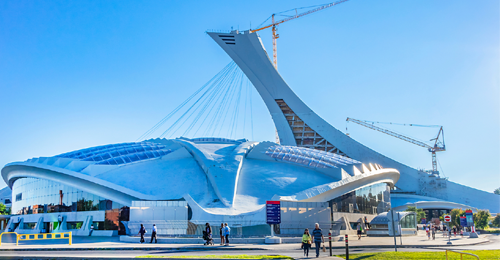 500 000 pounds of steel, 5,600 hours of manufacturing and nearly 15,000 hours of installation: this is what it took at SUMMA METAL to carry out the structural reinforcement work on the mast structure of the Montréal Tower (also known as the Olympic Stadium Tower). The project was entrusted to us by Pomerleau.
At 165 meters high with a 45-degree tilt angle, the Montréal Tower is considered the tallest inclined tower in the world! Its unique and daring construction, as well as a change of vocation to office space, required reinforcement work that few companies are able to perform.
RECOGNIZED EXPERTISE AND RELIABILITY
Once again, the project manager trusted our team of architects and engineers, with decades of design experience, to manufacture and install custom metal structure elements.
"Summa Metal: Always good collaboration for the good of the project."
Ms. Patricia Nicol 
Senior Project Manager at Pomerleau
The success of the project and our customer's satisfaction show that we are able to define cost-effective solutions to architectural design challenges. The Montréal Tower project highlights all the expertise and agility of our engineers, architects and installers. At SUMMA METAL, we can design, manufacture and install all architectural steel pieces required to accomplish highly complex projects, in Canada and the United States.