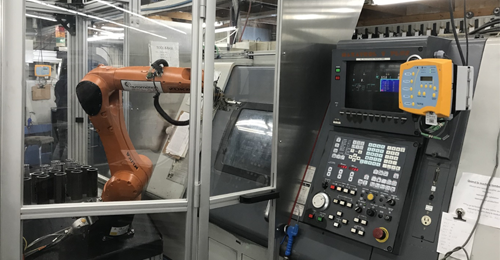 APF Villeneuve is always on the lookout for methods and tools to optimize our production and we are right in the middle of a transformation inspired by the concept of intelligent industry, also known as industry 4.0.
Our recent work to implement a Manufacturing Execution System (MES) moves us another step closer to bringing the virtual world of production management together with the real world.

Here is an example: the production management software collects real-time digital data on the factory's production. We have more than 20 machines, including three units that are entirely robotic. The software analyzes the data gathered and provides the information we need to optimize our work, from design to the finished product. Through machines and operators, we can monitor production very carefully and make changes throughout the process.
Smart Machine Features
Our software gives us data such as the number of parts produced and the average amount of time it took to produce a part. In addition, a schedule tells us when production is finished, which helps us plan the next production runs and delivery times. We can now know the exact reasons for a production shut-down and all of this information is compiled in our database.

We can also calculate APF Villeneuve's rate of return by day, week, month and year by using the performance indicators provided by our Enterprise Resource Planning (ERP) system.
Factory of the Future
"Digital technology is now a key component in our transformation. To get the most benefit from this, we are adopting consistent processes and practices. Of course, we are currently in the test phase, but within three months, we strongly believe we will be able to take advantage of a more competitive economic model, better collaboration with partners, optimized production activities and more qualitative relationships with customers. The next step will likely be to connect our 16 other machines!" said Érick Villeneuve, CEO of APF Villeneuve.

Deployment of this major project was staggered over several months with our attentive partners: Decide4action for the ERP, automation electricians from Groupe BEI, Zylia Tech for the MES and Metal Manufacturing Alliance for the inspiration.

APF Villeneuve is a technology showcase for several manufacturing companies.

Stay tuned for more news in the coming months!