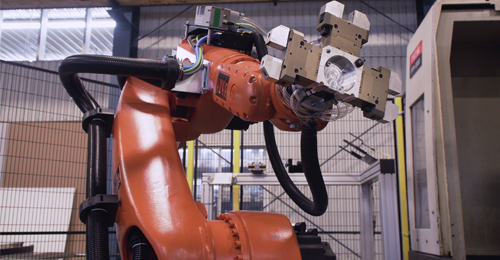 At ​APF Villeneuve​, we have set our sights on improving our production capacity and the quality of support we offer our clients in their growth.
The acquisition of 3 completely robotized units now enables us to deliver a larger volume of products, more quickly, and still with unparalleled quality. This also take pressure off the work team at a time when there are labor shortages, and reduces exhausting repetitive tasks. We entrust these tasks to the robots and now guarantee 24-hour production, 7 days a week.

In 2017, our CEO, Érick Villeneuve, was inspired by taking part in a France-Québec mission, organized by the center of excellence Alliance Métal Québec and its partners. The visit to several French plants, with the ​Mont-Blanc Industries​ growth accelerator, enabled Érick to find the best partners to maintain our competitivity while offering the best to our clients.

On his return, he planned the acquisition of our first articulated robot. Since then, two other robots have been added, and they support our qualified staff in the ​mass production of high precision machined parts at high volumes​. Our robots are now welded within the team!

"We are pleased to have introduced robotized units to our production line so that we can support our clients better in their growth."
- Érick Villeneuve, CEO of APF Villeneuve

Contact us​ for your precision machining projects and your products will be made by our team 4.0!