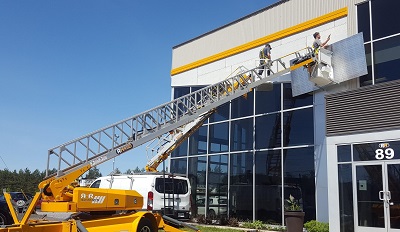 When it comes to work at height, it is essential to have a thorough plan for the execution of the work. This is mainly to ensure that workers can perform their tasks safely, as falls from heights are one of the main causes of work accidents.
Given the nature of their operations, entities from several different fields (telecommunication, city councils, public works, fire services, electricity networks, pruning, ski stations, etc.) invest large sums in their fleets of trucks, which they equip with hydraulic aerial ladders, insulated or not, according to their needs.
For three decades, RH Aerial Lift, has developed different types of products for aerial work. With its engineering department, RG has developed an innovative concept for the complete distribution of aerial lift equipment over the entire vehicle. This increases the structural resistance of installations. Plus, more than 50% of the aerial lift material is optimized: the base, the platform, and the internal structure that maximizes cargo space.
As an example, model RHP14 s a self-leveling end platform that can reach 14' in height and 16' in horizontal reach (video: https://www.youtube.com/watch?v=MgHyLV39tSI).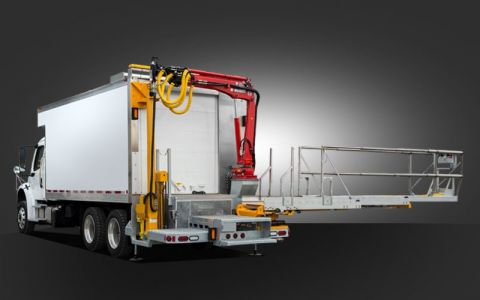 THE CONSTANT SEARCH FOR LIGHTNESS
From the very beginning, one of RH's goals has been to enhance its product range using lighter and stronger steel. A material that can be used for thinner and finer dimensions. High-performing Strenx® steel was the solution to this challenge. The manufacturer calls it "performance steel" because its boosted performance exceeds that of high-strength carbon steel. With Strenx® steel, you can increase loads and reduce fuel consumption and CO2 emissions. That way, aerial ladder users can improve their activities by going higher, further, and faster!
Plus, RH Aerial Lift is able to install its equipment on several types of vehicles, while strictly in compliance with the regulations (CSA, OSHA, DOT, ANSI and others) and the manufacturer guide for each vehicle. This allows you to keep the manufacturer's warranty, a solution not offered by our competitors.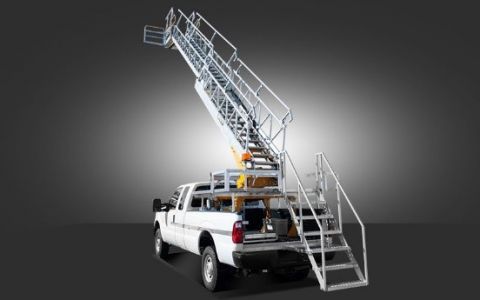 INNOVATIVE SOLUTIONS
Other examples of innovative concepts by RH Aerial Lift include the RH Insulated Trailer with 45' of working height, that can be attached to a trailer with footprint and scalable working area for tight spaces. The RHR range of insulated towable ladders provide outstanding horizontal reach while maintaining versatility and safety in at-height work (video: https://www.youtube.com/watch?v=8SqXR3xHO-4).
RH ladder equipment has also introduced RHR Series, a brand-new towable height work tool, similar to the Insulated RH trailer with 33' to 45' of working height. If you are looking for the perfect combination of the versatility of a towable basket and the safety of equipment insulated against electric shock, you will be pleased to discover the insulated towable ladder from RH Aerial Lift. In collaboration with Cisolift, RH Aerial Lift developed a product that meets a specific need whose demand is constantly growing. Come try it and you will be won over by all the advantages this product has to offer!