Lifts manufactured by Canada Hydraulic Equipment Inc. (CHE) brand GiroliftTM provide significant benefits and an excellent return on investment for car dealerships, as evidenced by this major dealer in Quebec.
" The reasons why we buy from Canada Hydraulic are that it is a local company, located near our dealership, which offers impeccable service in terms of installation, maintenance and equipment sales. Canada Hydraulic demonstrates impeccable professionalism before and after sales. Their customer service is very professional and they understand the importance of quick service in our field of activity. Whether it's sales or service, I recommend Canada Hydraulic. Thank you for your business ! "
- S​ylvain Briand, Director of Operations Services, PAILLÉ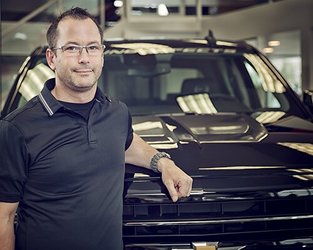 You can take advantage of the free support and numerous services of CHE's lifting system experts to choose the right equipment, the right location, and to ensure that you save space and money.
Contact the ​Canada Hydraulic Equipment Inc.​ consulting service today !
To contact Sylvain Briand, Director of Operations Services, PAILLÉ :
Tél. : 1-800-836-9989
Cell : 450-365-4203

700, AVENUE GILLES-VILLENEUVE, BERTHIERVILLE QC J0K 1A0
4705, RUE SAINT-LAURENT, SOREL-TRACY QC J3R 5S8 ​WWW.GMPAILLE.COM