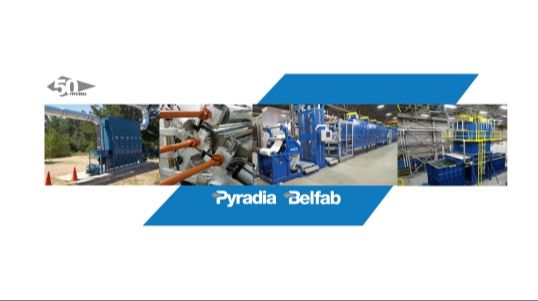 The story of Pyradia began in 1973, and in 2023 the company is proudly celebrating 50 years of existence and success!
It was in Marieville that Pyradia began designing small kilns, mainly for pottery and enamelled copper.
Five years later, in 1978, the company was acquired by Michel Hémond and Mario Bouthillier, who took over the reins. In 1979, Pyradia moved to Longueuil, marking the start of the company's future development.
From this point on, Pyradia began diversifying into manufacturing industrial ovens and furnaces for heat treating steel and aluminum for the aerospace industry.
In the years that followed, Pyradia gradually expanded its product range to include cupellation furnaces for analyzing precious metals, as well as specialized furnaces for various baking and drying applications.
In its quest for expansion, quality and innovation, Pyradia continued adding new skills to its arsenal.
More than ten years after its creation, in 1985, Pyradia acquired Belfab, a company specialized in manufacturing dust collection equipment, further consolidating its position in the industrial sector.
A major step forward was taken in 1987, when Pyradia acquired its competitor, Rousseau, a company operating in the dust collector sector, significantly strengthening its market presence.
The company reached a new turning point in the '90s, with the creation of a third division in 1992, specialized in web converting equipment.
Pyradia continued its strategic development in 2008, establishing a partnership with Swiss company Codere to offer patented atmosphere furnaces to North American companies.
Today, the company occupies an important and recognized position in the manufacturing industry. With a modern 40,000 sq. ft. plant in Saint-Hubert, Pyradia can rely on its loyal, dedicated and highly skilled employees.