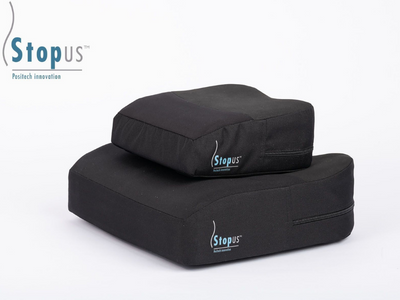 Meticulously designed to meet every user's specific comfort needs, the Positech Innovation cushion line reflects the manufacturer's exceptional attention to the quality of its materials and the precision of each model's design. Whatever your mobility needs may be, you'll feel completely at ease from the very first time you use your Positech wheelchair cushion.
Our Stopus model is the best choice for car travel. This cushion is designed to provide maximum comfort for every age and body type while ensuring a stable position throughout your car ride. It makes every trip more pleasant by eliminating the discomfort of slipping out of place.
When you choose our Relief Zen model, you'll immediately notice the care that's gone into the design, providing perfect balance for each of the pressure points on the seat. Like all of our models, this cushion also prevents slippage and provides increased comfort.
Featuring all the great qualities of our Relief Zen model, the Relief Plus was more specifically created to meet the needs of less active users. Its design and choice of materials offer users a seat designed to prevent slippage and ensure long-term comfort.

The Relief Aire is specially designed to prevent and minimize certain skin problems that can result from damaged and fragile skin. Users affected with skin shear conditions or bed sores will be delighted with this model from our collection.

Our Cirrus model was specially created to provide maximum comfort for people living with advanced muscle atrophy. In addition to increased support, users will notice the special details of its design that allow the ischia and sacrum to sink comfortably into the seat of the cushion.
Created in 1998, Positech Innovation quickly rose to the top of its industry by developing and designing 100% Canadian products to meet the needs of people with disabilities or reduced mobility.
Every member of the Positech Innovation team is committed to offering high-quality products that can adapt to the specific needs of any person living with mobility concerns. That's why we offer a wide range of products that are also customizable and adaptable for each individual user.