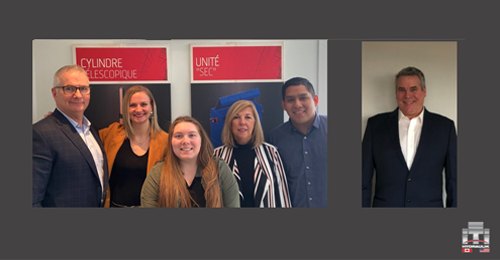 Despite a pandemic that has hit the world, ITI HYDRAULIK pursues its objectives to offer you a dynamic and efficient sales service.
ITI HYDRAULIK is composed of a sales team in Canada and a representative for our American subsidiaries located in Andrews and Las Vegas. Of course, our president Jean Mailhot, remains very involved in business development and customer relations.
A TEAM AT YOUR SERVICE

The work of our team in Canada is done directly on the phone from the office, so we are able to establish a quick contact with our client. We maintain a very high order renewal rate, being the industry leader in Canada with exclusive products, such as the In-Ground Telescopic Cylinders that we are the only ones to produce !

The preparation of quotations is done by our Sales Director with her Sales Assistant, and our Logistics Coordinator takes care of everything related to the delivery of our products. This structure allows us to offer a quote within 24 hours of our client's request !

ITI HYDRAULIK puts all its efforts to find the most competitive production and delivery times, and to complete the order in the shortest possible time, when it is a standard order. In order to provide an excellent after-sales service, the Sales Department works in conjunction with the Technical Service Department.
CHALLENGES TO BE MET

The bid preparation process represents a considerable amount of work for the department. Thus, ITI HYDRAULIK is currently working on renewing its ERP system and improving the use of its website for online quotes in order to establish an increasingly direct service with our clients.
THE REALITY OF THE MARKETS

For our sales force in Canada, the results are excellent and we can certainly say that the market is growing and that we are dominant in the market. In the United States, it's a longer-term project given the geographic scope and therefore greater competition. Despite these challenges, our sales are growing every year, and there are great opportunities to continue to develop this market. Moreover, with our telescopic jack in the ground, we have an advantage that should not be overlooked because even in the United States, we are very few companies capable of manufacturing them.
In conclusion, whatever your needs in hydraulic cylinder and pumping unit design, ITI HYDRAULIK will always help you and your company reach new heights !