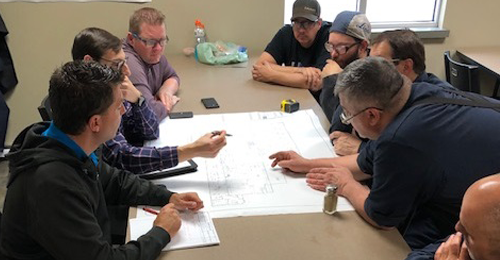 Getting ​UDACO​ ​Industries​ staff involved has been key to making our expansion project a success. As a reminder, we're adding 7,000 sq. ft. to our existing 20,000 sq. ft. facility.
As a support, the industrial engineering firm ​Progima​ has been assisting us with the project, helping us to maximize the efficiency of our new workspace. As part of their mission, Progima notably helped us to :

Design a functional layout by optimizing the production area ;

Improve efficiency and develop a set-up that enables flexible operation ;

Improve the working environment, including employee health and safety.
Following the initial analysis, all UDACO employees were interviewed to discuss their needs. We talked about the workspace each employee needed for their work station. Operators may need tables, additional storage space or lighting... All ideas are welcome and will help us make progress with our project. These new workspaces will require new ways of working and we are supporting our employees to ensure they can easily adapt to the changes.
"To succeed, we need all those concerned to get involved in our expansion project. When team members are happy with their workspace, it obviously has an impact on our company's productivity, which is beneficial for our customers."
- Caroline Baril, UDACO Industries General Manager
Thanks to our team's commitment, flexibility and ingenuity, we will be able to continue with our efficient production and industrial equipment assembly activities, without stoppages, until work finishes in spring 2020. This means you can be confident about ​contacting UDACO​ for all your general and custom steel production work !