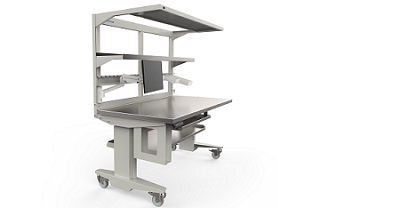 Customers who trust Adaptaid are confident that they will receive a product that meets their needs, designed with attention to detail, with quality materials and all the features of high-end medical equipment.
Once again, Adaptaid was able to meet the expectations of the Medical Device Reprocessing Department team at the Montreal Heart Institute. They purchased three units of our ERGOFLEX adjustable table in order to install ergonomic workstations to facilitate the medical device packaging process. The Quebec Heart Institute is also interested in our ERGOFLEX adjustable table and purchased it for the Maisonneuve-Rosemont Hospital in Montreal.
The success of this equipment is due, among other things, to the fact that we designed this table with the primary goal of promoting good ergonomics for the staff and thus improve productivity.
ERGOFLEX: THE ERGONOMIC ADAPTAID TABLE
The table is entirely manufactured in our workshops and the work surface comes in different sizes, i.e. a depth of 30 or 36 inches and a width of 36, 48, 60 or 72 inches. The height of the stainless steel worktop is adjustable. The table can be electrically adjusted by a push button, making it possible to adapt it to the height of each staff member. A data storage system allows you to save up to four different adjustments.
Several accessories are available, such as a back panel with shelves, a computer screen, storage compartments and a lighting system. Adaptaid is also recognized for its ability to adapt to the needs and restrictions of its customers. So at the request of a customer with limited space, we created a sliding tray that can be fixed to the table. This tray is now part of our list of available accessories.
Since 1998, Adaptaid has been designing and manufacturing products of exceptional quality for various hospital departments, with rigor and expertise. Contact us for more information.