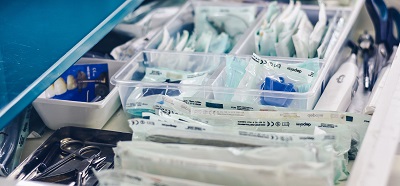 Adaptaid answers to Medical Device Reprocessing (MDR) requirements, primarily in the hospital sector, which have become more complex over the years.
There may be a number of different explanations, the first being, of course, the healthcare system's constant fight against nosocomial infections. Furthermore, there has been an increase in preventive medical examinations, particularly in light of an aging population, and the emergence of new and innovative treatment methods with more technically complex surgical instruments.
WHAT IS MDR?
MDR involves all the steps of cleaning, disinfecting and sterilizing medical devices so they can be reused. A medical device is defined as any item, instrument, apparatus or device, along with all its components, used for diagnostic, treatment or healthcare purposes. Devices are classified according to the potential risk of infection posed by their use:
Critical devices (penetrate the skin or sterile tissue);

Semi-critical devices (touch the mucous membranes or non-intact skin without penetrating it);

Non-critical devices (do not touch the patient or only touch intact skin).
(Reference: Institut National de Santé Publique du Québec)
ADAPTAID'S PLAYGROUND
ADAPTAID is a medical engineering company specializing in the design and manufacture of technical solutions for the medical sector. More specifically, as part of MDR, we produce the MEDISTATIO and MEDISTOR series of stainless steel cabinets, with HEPA filter ventilation, available with or without a traceability system, in a range of sizes and features to fit your endoscope storage needs. You may also be interested in our SCOPECART series of endoscope transport carts; the cart as well as the trays are compatible with automated washer systems. With a large storage capacity and a variety of options available, they are sure to meet all your needs.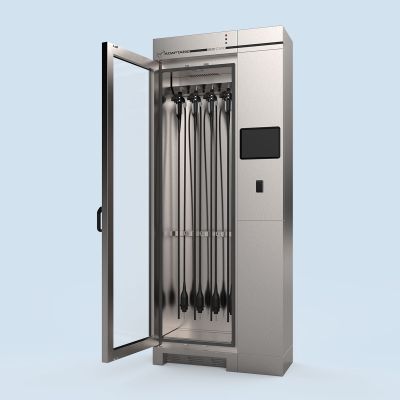 Our know-how and our team's strength have driven the company to develop an excellent capacity to meet the demands of the medical equipment market.
We have built a solid reputation with our customers due to our high quality products and our rigorous manufacturing processes. Our customers also value our ability to respond to unique requests in a very competitive timeframe. Contact us for more details or give us a call : (450) 585-7272.
To better understand what MDR is all about, watch this video on the CHUM's Medical Device Reprocessing Unit: