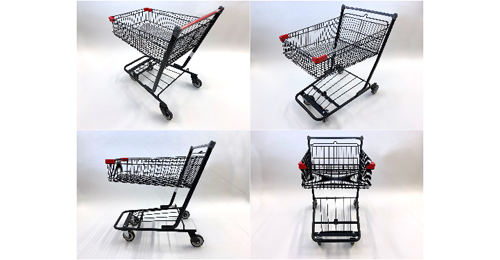 Cart Supreme​ puts our experience manufacturing metal wire shelving to work to produce material handling carts and baskets.
That's why the Société des Alcools du Québec (SAQ) has been purchasing carts from Cart Supreme for their hundreds of stores throughout the province for 10 years. Their warehouses use shelf picking carts and the regular stores where their alcohol products are sold have express carts.
This government company chose Cart Supreme for the reliability and quality of our ultra-robust carts. The SAQ replaces their wheeled cart inventory on a rolling basis with new products, giving consumers an optimal shopping experience!
Cart Supreme also provides cart repair services and offers replacement parts for all sorts of carts. In addition to manufacturing material handling and grocery carts, Cart Supreme also designs carts for the medical sector and for laundries, as well as for the industrial and manufacturing sector. One of our company's specialties is producing custom carts and metal shelves to meet customer needs.
Richard Bureau has led the company for nearly 20 years and is always available to help customers. He pays attention to new consumption trends and stays up to date on metal wire cart solutions. That's why Cart Supreme's material handling carts and baskets meet the needs of users and businesses in many sectors, including food and pharmaceutical, as well as medium and large stores.
Contact Cart Supreme​ and discuss your project with ​Richard Bureau​ !