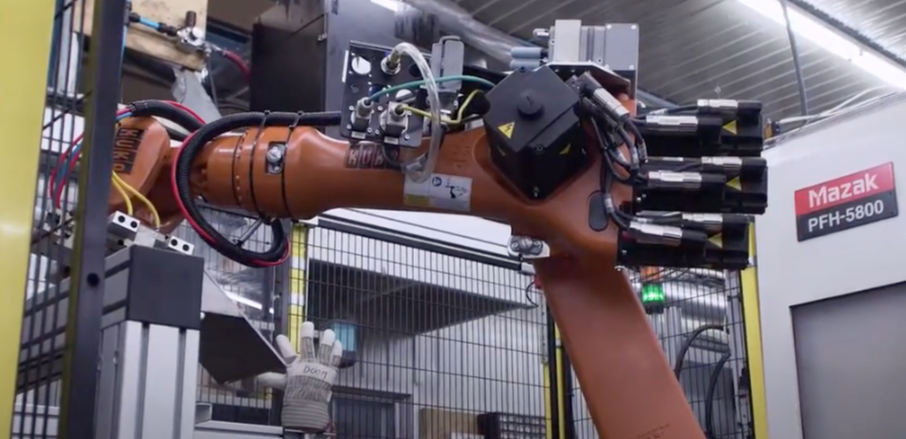 THE QUEBEC MANUFACTURING INDUSTRY HAS MADE IMPORTANT SHORT-TERM ADJUSTMENTS TO REMAIN OPERATIONAL DESPITE COVID-19. FOR MANY MANUFACTURERS, THIS PANDEMIC HAS TURNED INTO AN OPPORTUNITY TO DEVELOP A MORE FORWARD-ORIENTED APPROACH.
This is the case at APF Villeneuve Machine Shop, which has taken the opportunity to revisit its strategies in order to effectively respond to the radically different demands and purchasing habits of consumers.
"By combining forward-looking technologies, such as robotics and process automation, with the expertise and commitment of our staff, we are able to meet the most complex of challenges. We are committed to delivering products that meet your expectations, in the shortest possible time," said Érick Villeneuve, CEO of APF Villeneuve.
THE ADVANTAGE OF AUTOMATION
The COVID-19 crisis revealed the vulnerability of the manufacturing workforce in an entirely new way. As a result, manufacturers have had to explore new ways of automating processes that take the manual burden off workers. It is important to note that these processes are not replacing workers. Instead, employees are given tools that help them work more efficiently and focus on different tasks.
The APF Villeneuve did not wait for the pandemic to act. The company equipped itself with sophisticated equipment several years ago. At the cutting edge of technology, this equipment helps meet strict standards for industrial metal fabrication, not to mention customer demand. "We're on the lookout for innovations that can increase our productivity, and we aren't hesitant to implement them as soon as possible" added Érick Villeneuve.
This is why APF Villeneuve has implemented automated machine tools and collaborative robots. Since innovation is firmly rooted in the company's values, it has acquired the best equipment to supply machined parts of the highest quality.
One could say that the company's strategies are in line with the trends of the Industrial Internet of Things. This is what will propel the manufacturing industry towards a more agile future.