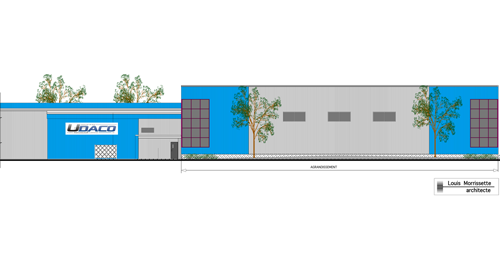 Since 1985, UDACO has been producing and assembling industrial, mining and security equipment, along with fabricating custom steel products.
We'll be adding 7,000 sq. ft. to our existing 20,000 sq. ft. facility.
The previous factory expansion was completed nearly 20 years ago. This new expansion demonstrates our growth and the growth of our customers. Among other things, this development will double our current lifting capacity, allowing us to assemble much larger parts so we can meet a wider variety of customer needs. It will also improve synergy and efficiency in the factory.
With our preparation, machining, welding, laser cutting, sandblasting and painting departments, we'll be able to bring all operations for the majority of our manufacturing projects under one roof. This will allow us to complete projects faster, saving time on everything from design to delivery, which purchasers will appreciate.
CHALLENGES AND SUPPORT

This ambitious expansion project presents several challenges, which we know our talented team will tackle successfully. Among others, all our activities will continue without interruption throughout the expansion work. In addition, a large portion of the construction stages must be completed before the winter season so that everything can be fully finished by spring 2020.
We're happy to announce that UDACO received financial support from Economic Development Canada's Women Entrepreneurship Strategy program, granted by the Honorable Diane Lebouthillier, Minister of National Revenue. Ms. Caroline Baril, General Manager, comments on this: "I'm proud that the Canadian government recognizes the contribution of women entrepreneurs and directors in business. This funding allowed me to surround myself with a great team. Top-notch experts and architects are assets that improve our project."
It's important to note that as part of this expansion, UDACO will purchase new equipment and will also create additional work stations in our welding and assembly department. These new employees will have the opportunity to work with our experienced team in a brighter and more spacious environment.