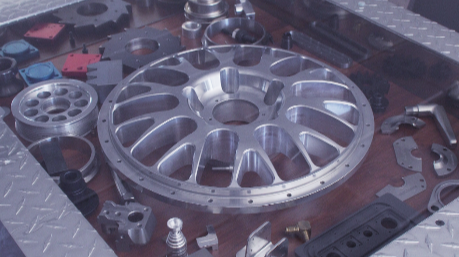 IT'S PRACTICALLY IMPOSSIBLE TO AVOID STAINLESS STEEL. FROM BANKS, AIRPORTS AND MOTELS TO RESTAURANTS, BREWERIES, ELEVATORS AND HANDRAILS, STAINLESS STEEL IS EVERYWHERE !
Each stainless steel element has been carefully designed with both utilitarian and aesthetic functions in mind.

And this is only one example. What you need to understand is that beyond manufacturing and welding a product, metalworking and finishing specialists spend a great deal of time ensuring that sheets and finished products look exactly the way the customer wants them to look. Some might say that it's an art form!
HIGH PRECISION MACHINE EXPERTS
The APF Villeneuve Machine Shop manufactures custom industrial metal parts. Whether simple or complex, APF produces equipment components in all types of materials: aluminum, brass, steel, stainless steel and plastic.

The machining of high-precision parts is continually supervised by qualified operators, ensuring that you get a finished product that meets your expectations.

The company uses the best tools, innovations and work techniques to meet every machining requirement. It does this regardless of the size, material or quantity of parts ordered. In other words, whether your project requires extreme precision or high-volume mass production, you can count on APF Villeneuve's expertise. Our 360° support service ensures results that will exceed your expectations. In addition, APF Villeneuve has optimized its work methods and developed effective techniques over the years. This allows us to deliver at the lowest cost and in the shortest possible time.