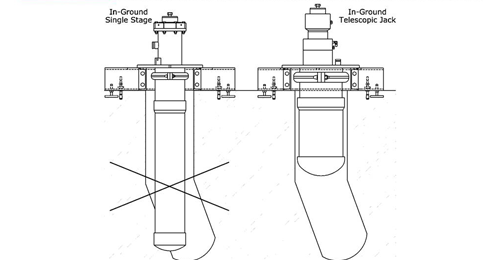 For over 30 years, ITI HYDRAULIK has innovated, developed and custom made all types of cylinders designed for the hydraulic industry.
Every employee in the company recognizes the importance of R&D. Indeed, along with our engineering and design team, we have developed a number of innovations that have made us stand out from the competition, like our inground synchronized telescopic jacks.
One of a kind, the inground synchronized telescopic jack offers smooth and safe transportation for its users while supporting a more compact installation. This type of cylinder works for either passengers or goods. Its capacity can reach up to 50,000 lbs.
ITI HYDRAULIK : SALES LEADER
Note that only three North American companies can boast of manufacturing this type of highly specialized jack. However, ITI HYDRAULIK is the only company that can claim it ranks #1 in sales for this piece of equipment!
Depending on the customer's needs, several configurations are possible, including the number of shaft sections, which can number from two to four. With four sections, a maximum height of approximately 100 feet can be reached when the shaft is fully deployed. Fully factory manufactured and delivered as a single unit, the inground synchronized telescopic jack offers several advantages :

Constant speed deployment of sections ;

Smaller drilling costs when compared to a single stage inground jack for the same purposes ;

Cylinder installation in confined areas. Can be installed before or after building walls ;

Easy and fast installation without any specific preparation since the cylinder is supplied with its hydraulic oil ;

Environmental protection thanks to a corrosion-resistant and maintenance-free PVC oil recovery sheath.
All our products and welding procedures are factory tested, ensuring that they comply with all applicable North American standards (ASME A17.1/CSA B44, CWB W47.1). Our jacks are perfectly suited to any type of elevator and can be delivered to the destination of your choice, anywhere in the world.
No matter what your needs are, ITI Hydraulik will always help you and your business reach new heights!
Contact us at 1-800-953-3229 (Canada) or quote@itihydraulik.com