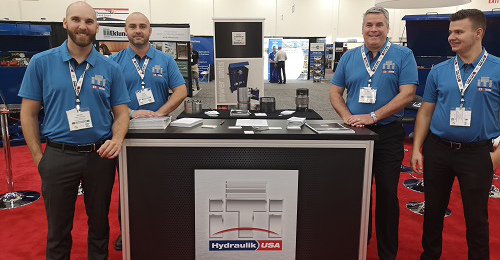 Members of the ITI HYDRAULIK team participated in NAEC's 70th Annual Convention, one of the largest gatherings in the industry.
The ITI HYDRAULIK team traveled to Grand Rapids, Michigan last September to participate in the National Association of Elevator Contractors (NAEC) annual convention.
For over 25 years, we have been present at two such events, the annual NAEC Convention in the United-States, and the CECA (Canadian Elevator Contractors Association) for the Canadian industry. These are always unique opportunities to take the pulse of the industry, discover new products, acquire new knowledge and above all, to network with other contractors. Furthermore, our stand and the equipment that we brought along for demonstration generated significant interest! We anticipate significant benefits.
LEADERSHIP AND VISIBILITY
For this 70th edition, the Amway Grand Plaza Hotel welcomed approximately 2000 people including suppliers, contractors, consultants, inspectors and other professionals that participated in several training sessions and conferences. More than 200 exhibitors from several countries around the world were at the convention.
Digital development and safety were major issues among the subjects discussed. This year, we dedicated significant effort to bring awareness to the participants with regards to small residential elevator safety. In addition to the equipment on display, two educational pavilions allowed participants to complete on-site certifications, given by experts in various regulations.
To conclude, having a stand for ITI HYDRAULIK at the NAEC is an opportunity to reaffirm our brand leadership and increase the visibility of our company and products among the players of a market in which we have played a part for several years.
No matter your needs, ITI HYDRAULIK will always help you and your company reach new heights !