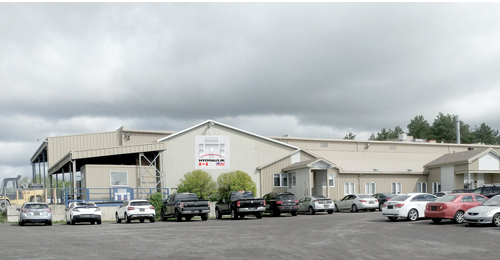 For 35 years, ITI Hydraulik has been raising and lowering millions of people all around the world!
A leader in designing and manufacturing custom hydraulic jacks and elevator power units, our company was founded by Gilles Mailhot in 1983. Gilles Mailhot's children, Robert, Luc, Jean and Monique, managed the company from 1990 to 2007. Today, the next generation is running things, with Jean Mailhot as President and his four children, Élodie, Élizabeth, Sarah and Charles, having also joined the company. Beginning in 2007, the family enlisted Jean-Jacques Frémeaux to serve as the company's General Manager. Every single employee plays an active role in developing ITI Hydraulik, with teamwork being one of our shared values.
FACILITIES IN CANADA AND THE UNITED STATES

Since it was founded, our company has continually diversified its products, responded effectively to demand for custom projects and expanded into North American markets by leveraging our experts' sound advice, as cost-effectively as possible. ITI Hydraulik's undeniable product quality has made it Canada's current largest manufacturer of elevator hydraulic jacks and a touchstone in the custom manufacturing market.

The company has also been operating in the United States since 1993, when Jean Mailhot, then President and Sales Manager, participated in a first NAEC elevator manufacturer trade show. Contracts began to follow rapidly, one after another, thanks to our constant effort to supply products with reputations that are second to none.

To continue to satisfy our American customers, who were at risk of losing their supplier under the Buy American Act, we founded ITI Hydraulik USA in November 2010, building a facility in Andrews, South Carolina. Our team offers a full range of elevator hydraulic jacks, providing manufacturing, assembly and distribution services across the entire U.S. ITI Hydraulik USA also offers replacement parts for both power units and hydraulic jacks for elevators.

Continuing our growth, we created a second U.S. facility in Las Vegas in 2017. This facility was created to handle assembly operations for power units for markets in the western part of the country.

According to Jean Mailhot , ITI Hydraulik USA holds an enviable position in the U.S. market. "Our success is built on the quality, variety and reputation of our products! Our dynamic and pioneering team is the pride of our company; they are always committed to making our customers' projects successful. "