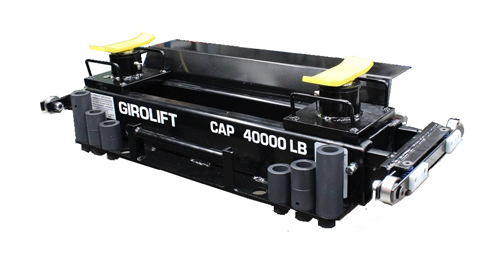 Canada Hydraulic Equipment Inc. has developed an alternative to both rolling pit jacks and ramps lifts jacks for heavy vehicles that is more robust and high-performance than anything offered by the competition.
Responding to demand from repair companies and heavy-vehicle services and in collaboration with the CGER (Centre de Gestion de l'Équipement Roulant du Quebec), Canada Hydraulic Equipment Inc. has come up with a product that satisfies the requirements of both the CGER and road transport companies.
Our engineering team has created the Girolift™ RJG rolling jacks for use both in pits and on ramp lifts. Equipped with two pneumatic pumps, the lifting cylinders are capable of moving from side to side in the center of the rolling jack. This new equipment offers an easy solution to hoisting axles or any other parts that need raising.
Canada Hydraulic Equipment's new jacks are equipped with advanced quality and bigger wheels ensuring durability and a greater life-span than traditional rolling jacks, therefore reducing breakage caused by premature wear.
Conceived with a lifting capacity between 15,000 and 40,000 lb., the Girolift™ RJG is suitable for carrying out maintenance on a multitude of heavy-vehicles as required in the high-performance trucking industry.
Canada Hydraulic Equipment is proud of its entire team, who for 25 years have continued to find innovative solutions in response to industry needs !