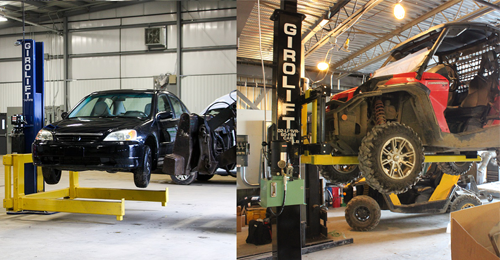 Canada Hydraulic Equipment always loves to develop custom products for their clients. A recent example of this is the lift equipment they specially designed for American Iron & Metal (AIM), a leader in the vehicle recycling industry.
The recycling industry is expanding and needs lift equipment that will make the task of dismantling vehicles easier while keeping workers safe. Canada Hydraulic Company responded to this need with the GiroliftTM 10LF1-72 with forks that is designed to guarantee complete safety while enabling free, easy access during the entire dismantling operation. Its 10,000-lb lifting capacity can handle all types of cars and trucks.
Unfortunately, several companies use methods that are not ideal for lifting vehicles. Using unsuitable equipment can be very dangerous because a vehicle's total weight and center of gravity change as parts and fluids are removed, making it unstable. With the right GiroliftTM machine, dismantling teams can complete their work safely.
Canada Hydraulic Equipment Inc.'s innovation also led to lift equipment designed and manufactured for the recreational vehicle industry, including snowmobiles, ATVs, two- and three-wheeled motorcycles and more. The GiroliftTM 02LF1VR is an alternative to scissor lift work tables that only offer limited access to vehicles. Once again, this innovation makes sure workers are safe while giving them easy access to all parts of the vehicle.
Canada Hydraulic Equipment is always ready meet the needs of the lift sector with innovations that give their clients work equipment that's easy to use and, most importantly, safe. Contact a member of the team today to discuss your project!