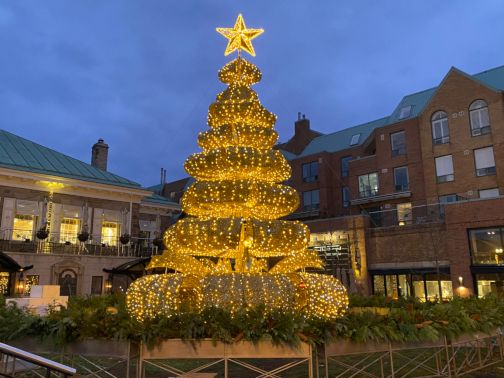 Together with the Town of Oakville, the Downtown Oakville Business Improvement Association in Ontario turned to Leblanc illuminations to breathe new life into its downtown area in November 2020.
The many renovation projects undertaken over a long period of time had caused neighbourhood life to slow down in previous years. Leblanc illuminations was asked to collaborate on a festive revitalization project over three consecutive years to help revive this urban area.
In the first year, the town wanted to enhance the visitor experience in its commercial thoroughfares by creating a festive shopping concept to temporarily replace the Santa Claus Parade during the pandemic. Leblanc illuminations therefore brightened up the lampposts in the picturesque Lakeshore Woods neighbourhood and Town Square public space.
The following year, we added immersive decorations in shopping streets and Centennial Park to further add to the experience.
Residents and visitors were transported to a magical holiday village, surrounded by festive decorations hanging from lampposts. For an even better shopping experience, they could also take advantage of the gingerbread arch photobooth and have fun taking photos of themselves on Santa's sleigh. The highlight of this year's event was the impressive Ribbon Tree, standing at 10 metres tall and 7 metres wide, which presented quite a challenge in terms of its installation.
Despite being imposed tight deadlines to deliver this major project, Leblanc illuminations managed to meet all the production and supply challenges and deliver on time, in spite of the pandemic.
The decorations created by Leblanc illuminations livened up and revitalized downtown Oakville, attracting enthusiastic crowds that helped revive local businesses.
If Oakville's festive atmosphere has inspired you, contact them now for a free consultation!