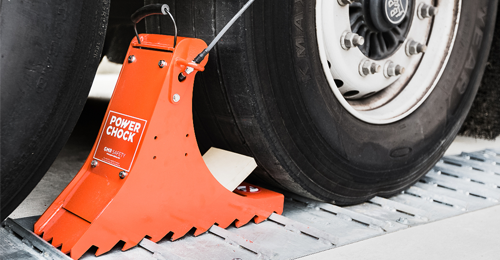 GMR Safety is a world leader in the design and manufacture of systems to secure logistics warehouse loading areas.
Since 1996, GMR Safety has been committed to ensuring its customers and partners success by providing innovative, simple and robust solutions to secure loading areas: equipment designed to withstand unintentional departure attempts.
POWERCHOCK wheel restraint systems enable the following to be secured :

Vehicles during loading and unloading

Tankers at filling stations

Swap bodies and trucks in bays
Its innovative solutions, known to be robust, reliable and simple, offer the only 5-year guarantee of its kind in the world! With their number-one aim being to protect the lives of those who work in the transport and logistics industries, POWERCHOCK wheel restraint systems ensure peace of mind for their families and employers.
To meet its client's needs, GMR Safety has developed a custom consultative approach for companies, to analyze and assess their needs and operational risks. Thanks to its extensive network of local partners and carefully chosen installation specialists who have followed a rigorous training program, GMR Safety can provide excellent after-sales services.
GMR Safety has also seen significant growth on the global market—its sales have doubled over the last 4 years. It now operates in more than 20 new countries, many of which are in North America and Europe. GMR Safety holds numerous international patents and is continuing to grow as a global leader in its sector !
Contact us and discover the POWERCHOCK © efficiency with confidence !