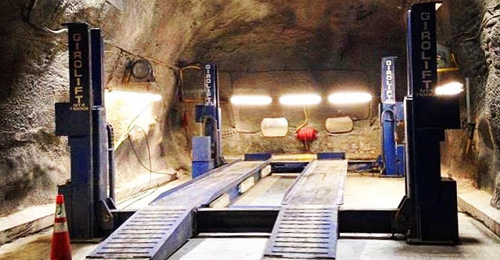 The cutting-edge Girolift TM lifting system is 100% hydraulic, without cable, chain or pulley!
Girolift lifts are durable, reliable, economical, and easy to use. These robust and highly-secure products considerably increase user productivity while facilitating work.
Girolift products require practically no maintenance or repair work and the expansive range is backed by numerous warranties. When installed by the company, the lifts are virtually flawless! Girolift experts provide an inspection service to ensure products function properly and to help users comply with safety regulations implemented by the authorities (CNESST, ALI, OSHA and others).
A history of innovation: all in the family

A pioneer in the circular economy, Mr. Gilles Mailhot realized in 1989 that he could create lifts using waste materials from the elevator cylinders he was manufacturing for another family business. This enabled him to eliminate loses and optimize raw material use.
At the time, Mr. Mailhot noticed that garage lifts were all in-ground and operated by air. So, he created a product that met innovative criteria: a 2-post surface-mounted lift which became the first product made by Canada Hydraulic Equipment Inc. when it began operations in 1993. Since 2003, Mr. Luc Mailhot has shared his father's vision and led the family business into the future with the same passion.
Products that are up to the task

The wide range of Girolift lifts is designed for two markets. The first is the distribution market that serves the automotive and recreational product industries. The range features products with the strength and desired lifting heights to safely lift vehicles like cars, trucks, SUVs, ATVs, motorcycles and snowmobiles.
The other is the heavy vehicle industry, for which this dedicated, energetic team designs, manufactures and installs products for tankers, buses, fire trucks and heavy trucks.
In addition, custom Girolift products work brilliantly for the specific needs of the mining, forestry and aeronautical industries. For example, the NT4 lifts for heavy and extra heavy vehicles have lifting capacities up to 140,000 lb (63.5 tons), supported by four posts with synchronized hydraulic cylinders and featuring several essential security elements.
In addition, Canada Hydraulic Equipment configures lifts designed for the manufacturing industry and creates custom products for a variety of clients. The expert Girolift team offers excellent service and support to help the clients throughout North America find the best solutions to meet their needs.