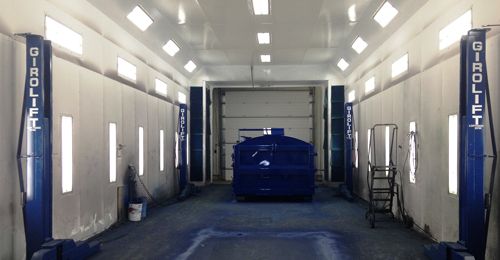 Canada Hydraulic Equipment Inc., recognized as the leader in heavy vehicle lift equipment, offers an industrial lift equipment design and manufacturing service.
Always 100% hydraulic, with no cables, chains or pulleys, custom-built Girolift™ lifts meet the strictest requirements and safety majors.
Girolift™ products are custom-designed for different industrial uses:
assembly lines for manufacturing industries

paint booths

assembly equipment

anything that requires lifting products during manufacturing (light or heavy)
Canada Hydraulic Equipment Inc. is the only manufacturer of 100% hydraulic synchronized column lifts without cables, chains or pulleys. This cutting-edge lift technology has put Girolift™ ahead of the competition since 1993. It provides customers a host of benefits that reduce operating costs and makes work easier while increasing productivity and precision.
This means Girolift™ products are the easiest, safest and most economical lift equipment designed for use in any industry. In addition, they have significantly lower maintenance time and requirements, as well as replacement parts costs. Once they start working with a Girolift™ lift, users can't do without this technological innovation!
An attentive and dedicated team guides and advises customers during the set-up process, providing personalized support. Free consulting services are offered by qualified Girolift™ hydraulic lift system specialists directly from the manufacturer, Canada Hydraulic Equipment.