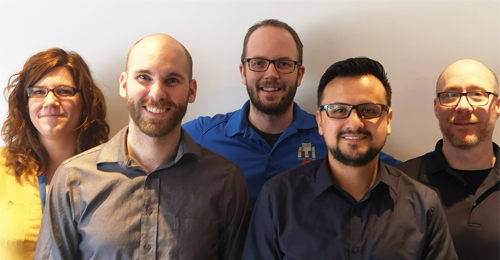 Whether it's for a standard or custom order, all the specifications and needs of the jack to be produced are determined in advance data taken in the field by the clients' engineering departments or mechanics.
ITI Hydraulik provides clients with site survey templates in order to obtain all the data that will be used to determine the final specifications of the product and to produce the quote. And that's when our engineering team steps in.

At ITI Hydraulik, our engineering department counts five members: a senior engineer, two technical drafters and two technicians, one of whom is a senior. They are based in Canada but also work for our U.S. facilities in Andrews, South Carolina and Las Vegas, Nevada.
MULTI-LEVEL ROLES
1) The engineers calculate and design all the parts to be manufactured in line with the measurements and drawings/survey provided. They then draft the technical drawings that are sent to production. This is done in conjunction with the Sales team throughout the process.
2) In research and development, the team also works on all the projects to improve our product designs and production processes and to facilitate installation in the field.
3) Finally, the engineering department provides support for technical service department, production employees and clients, for more complex projects requiring, for example, modifying or adapting a part to meet a client's specific needs.
TAKING ON CHALLENGES
As ITI Hydraulik is a growing company that is well established in both Canada and the United States, we have a lot of orders! This means our main challenge is ensuring our work is accurate and meticulous, and that we meet our deadlines. We also need to adapt to the reality of installing hydraulic jacks in today's world.

As such, ITI Hydraulik's engineering team is actively working on creating an IT program that could help generate complete production files, including 3D drawings of the jacks, using the quote and site plans. For the engineering team, the steps would be simplified and would facilitate validation. The time saved could then be devoted improvement projects to create added value to the product which would greatly optimize operations for the benefit of clients!
GREAT INNOVATION
Another great innovation that the whole company is proud of is the development of the ACME threads to facilitate assembly of the sections of large-scale jacks, including our telescopic model. ACME threads are bigger, stronger and more easily assembled, meaning there is less risk of them becoming damaged.

In conclusion, our engineering team will put its vast experience to work to exceed your expectations and make sure you are satisfied with a reliable product that is delivered on time and at a competitive price!