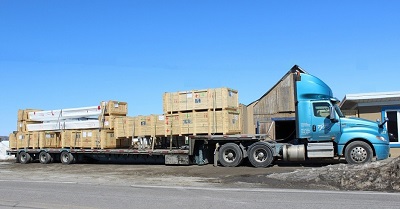 Canada Hydraulic Equipment Inc. (CHE) specializes in custom lift equipment for heavy-duty vehicles and has enjoyed several years of success in exporting across North America, to the Caribbean and to Africa.
Canada Hydraulic Equipment deals in 4-post and ramp lift equipment, able to raise up to 140,000 lb and intended for mining or garages servicing heavy-duty vehicles. In addition to shipping our products throughout Canada, we export to the United States, Ecuador, Cuba, Haiti and Burkina Faso.
EXPORT OF SOLUTIONS
This custom-built lift equipment meets the specific requirements of each client, and all products are 100% hydraulic, with no cables, chains or pulleys. Whether for measurements, exceptions or additional safety requirements, Canada Hydraulic Equipment's engineers will find the solutions and create the desired product. The team also handles the export logistics, like adhering to existing laws and packaging standards for each destination country.
GIROLIFT™ PRODUCT TECHNOLOGY
Clients mainly decide on Girolift™ products because of CHE's technologies: use of top-of-the-line electronic control units, minimal maintenance needs and, lastly, the cylinder's design, which has no major parts to replace or mobile parts to repair (no cables, chains or pulleys).
Canada Hydraulic Equipment Inc. is always ready to meet the needs of the lift sector with innovations that give our customers work equipment that's easy to use and, most importantly, safe. Contact a member of the Girolift™ Consulting Service today to discuss your project!