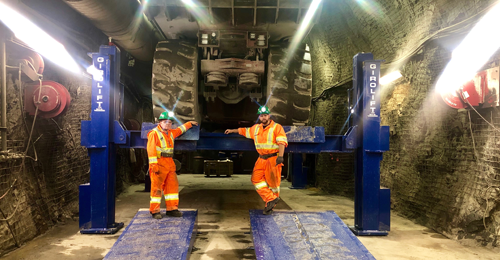 In addition to safe, professional installation of your Girolift™ lift products, Canada Hydraulic Equipment offers an annual inspection service with certification.
Safe, Professional Installation

Canada Hydraulic Equipment Inc. (CHE) offers installation of Girolift™ lift equipment to customers in several cities in Quebec. If this service isn't available in your area, CHE will refer you to a trusted company that will provide installation by certified technicians with the same level of professionalism.
In every case, technicians follow all recommended safety standards for your specific equipment, as well as the standards required by CNESST.
Annual Inspection

In order to comply with all CNESST standards, lift equipment must be inspected each year by a qualified firm in order to ensure that all parts of your hydraulic lift system are safe. CHE offers an inspection service for your Girolift™ hoists (and repair, if necessary) so you can obtain this annual certification. After inspection, we issue a certificate of compliance indicating the date of inspection.
CHE is also an active member of Auto Prevention, prevention experts in the automotive service industry that support professional development for mechanics and provide information on safe work practices, particularly in the context of vehicle lifts.
Products that are up to the task

In addition to the light vehicle industry, Girolift™ products also work well for the specific needs of the mining, forestry and aeronautical industries. For example, our NT4 lifts for heavy and extra heavy vehicles have lifting capacities up to 140,000 lbs (63.5 tons), supported by four posts with synchronized hydraulic cylinders and featuring several essential security elements. In addition, Canada Hydraulic Equipment configures lifts designed for the manufacturing industry and creates custom products for a variety of clients.
Canada Hydraulic Equipment Inc. is always ready meet the needs of the lift sector with innovations that give our customers work equipment that's easy to use and, most importantly, safe. Contact a member of the Girolift™ Consulting Service today to discuss your project !