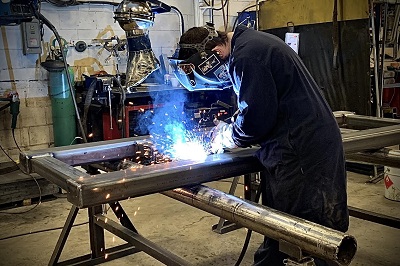 All welders at Canada Hydraulic Equipment Inc. (CHE) are subject to CWB Group certification.
The CWB Group is an industry-funded private sector organization that provides a variety of services to more than 7,600 companies in 34 countries, including welding certification. The CWB Group provides a comprehensive and integrated service to the welding and assembly industry. Through a rigorous examination and qualification process, it ensures that companies meet safety and product standards, for the well-being of all.
CERTIFICATION
anada Hydraulic Equipment (CHE) welders participate in these examinations and must renew their CWB certification every 2 years in order to maintain their qualification. They are subject to the CSA W47.1 standard: Certification of companies for fusion welding of steel. This assures CHE customers that its products are manufactured according to industry standards!
SUPERVISION
On all shifts, CHE can count on the presence of a certified welding supervisor. In this way, CHE ensures that all of its delivered products meet the high safety standards recommended for its hydraulic lifting devices. After all, CHE has built its reputation on the quality and durability of its Girolift™ products!
Canada Hydraulic Equipment Inc. is always ready to meet the needs of the lift sector with innovations that give their customers work equipment that's easy to use and, most importantly, safe. And don't forget that CHE lifts enjoy 100% hydraulic synchronization, with no cables, chains or pulleys. Contact a member of the Girolift™ Consulting Service today to discuss your project!