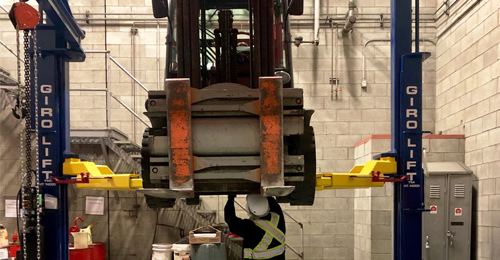 Canada Hydraulic Equipment always loves to develop custom products for our customers. That's why we've designed products that meet the needs of companies who use fork lifts in their warehouses.
These companies need to service and repair their forklifts, so Canada Hydraulic Equipment has designed lift equipment that makes it easier for mechanics to access places that need repairs and stay safe while doing their work.

First, the GiroliftTM consulting service analyzes the customer's needs and the fork lift models they own and then provides a list of the GiroliftTM products and accessories that will be necessary to complete the maintenance or repairs. In addition, we can install a jib crane on one of the columns. This accessory can be used to lift heavy objects like batteries.

If a customer purchases different fork lift models than the ones initially analyzed, the Canada Hydraulic Equipment team can complete a feasibility study for a small fee to identify the modifications our engineering department would need to make.

Major customers have chosen specialized GiroliftTM lift equipment ranging in capacity from 6,000 to 30,000 lbs. due to this customization capability, as well as the quality of our products and services. Our custom hoists have been installed at various companies, including Canada Post, Metro, Sobeys, Jean Coutu, SAQ, Kruger, Bridgestone, Natrel, and Johnston Equipment, to name just a few.

Do you have fork lifts you need to service and maintain ? Then contact us today! Canada Hydraulic Equipment is always ready meet the needs of the lift sector with innovations that give our customers work equipment that's easy to use and, most importantly, safe.

Contact a member of the GiroliftTM consulting service today to discuss your project !