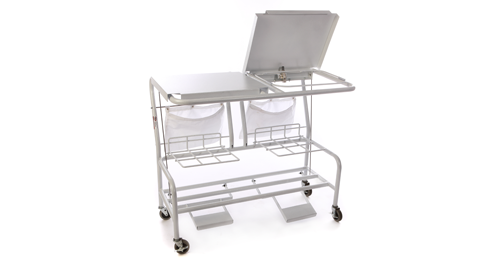 The entire ​Cart Supreme​ team is working hard to meet the essential needs of health facilities.
We are continuing to produce hospital and laundry carts while carefully following the health measures required by public health authorities.
Because many companies are impacted by mandatory isolation measures, our president ​Richard Bureau​ had to quickly look for a new supplier to provide finishing on our steel products, especially for double carts for dirty laundry. Since Richard wanted to supply the same quality to his customers as we had prior to the health crises, he contacted the ​Metal Manufacturing Alliance​ team to get help with his search.
That's how he got connected with ​A & G Électrostatique​, which quickly provided the electrostatic paint services he needed to finish our carts. Plus, the good news is the company is located in the same region! Obviously, there was some concern about having to quickly start working with new partners, but the two companies were very satisfied with the results. The products were delivered on time to the clients who needed them quickly and at higher volumes than during normal times.
"I am grateful to Metal Manufacturing Alliance for their help and, of course, A & G for responding to our request. I encourage all small and medium businesses to discover new partners, some of whom are right around the corner from you!" ​- Richard Bureau, president of Cart Supreme.
The Cart Supreme leadership team is very grateful to our loyal employees who are making a huge contribution to the collective effort. We also send our thanks and best wishes to staff at health care facilities during these difficult times.